Electrical outlet inside the drawer
This is a great tip if you're designing a new kitchen or remodelling the old one. Having plenty of outlets in a kitchen is always a good idea. And you probably keep some things that require charging in your drawers, such as a cellphone or mp3 player. Usually you have to take them out to charge them. So why not put a electrical outlet inside the drawer?
With this system you can charge your gadgets while they're inside the drawer. It's a great way to prevent clutter and keep your kitchen as clean as possible.
Installing a hidden plug in your drawer is very easy. It's so easy you can probably do it yourself. Wire a plug in the back of the drawer and connect it to a power outlet somewhere else. Don't forget to make these cables long enough, otherwise you won't be able to open your drawer completely.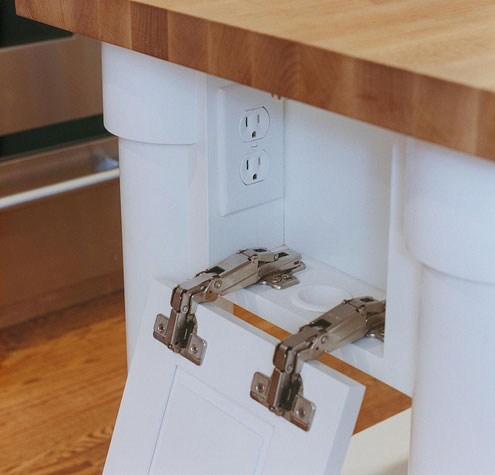 Even in smaller compartments of your kitchen you can use this tip (check out the photo above). It can also be used in other rooms of the house. In a bathroom, for example, you can protect your power outlets from water splashes.
It's a handy concealed power source that's bound to have several uses. I'm definitely getting this in my own kitchen.