We live in times when impossible nothing. If you are willing to harvest plants in your own apartment in the city there are ways to do it all year long! No need for a big space or big investments into huge stands, now you can have your own nano garden in your own kitchen. Healthy life style came to the cities.
How doest it work. Sun and soil
To harvest plants and vegetables you need soil and sun.
New technologies and invention can help you to use special soil-free pallets or discs, which have natural fertilisers and minerals for fast growing and starting of your plants. Great thing about them is that such concentrated mixes keep water in itself much longer, they are dirt-free and organic.
The best thing about nano gardens is LED lamps. It is really hard to have your plants on the sunny side all the time. Moreover if you live in the places where it is raining much of the year – you can be in trouble. Solution is to provide UV light and heat from lamps above the plants, which you get in nano gardens. Modern lamps are very planet and money friendly, they use very little of electricity and need to be exchange once in a couple of years.
Special features of nano gardens
In our overview below you will find some option that are already on the market. All the gadgets have place to be filed with water. More expensive ones are made with sensors to notify you when it is time to water your plans. However it is rather an expensive option.
Another thing that you can look for is automatic turning on/off of lights. Otherwise you will turn it on by yourself. Our advise is that it better be on for at least 12 hours a day, better 16 hours.
Nano gardens overview

pros
cons
special feature
price range
editor's review
SunBlaster Nano Dome Propagation Combo Kit
-price of replacement parts
-easy to use
-easy to change plants
-not automatic features
-needs your attention to water, cut plants, turn on light
totally adjustable kit
$
4.5/5.0
Miracle-Gro AeroGarden Harvest Elite with Gourmet Herb Seed Pod Kit
-great for higher plants (tomatoes for ex.)
-has lots of additional equipment (fertilisers, own pallets with seeds)
-up to 6 plants
-larger footprint
-price
automatic light and control panel with information when to water or fertilise plants
$$
4.3/5.0
Click & Grow Indoor Smart Herb Garden with 3 Basil Cartridges and Orange lid
-small footprint
-great look
-pricey replacement parts
automatic light
$
4.0/5.0
SunBlaster Nano Dome Propagation Combo Kit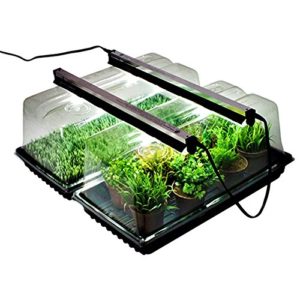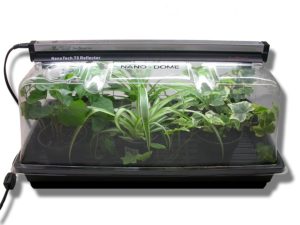 This home garden might be useful for starting of the plants and for rather short plants. It is simple and easy to use. All you need to do it grow your vegetables and plants. Refills are very cheap because all you need to buy is seeds. Best thing here is that you decide and see all the process. You can exchange the soil pallets, change and add more plants and so over. This kit has great feedbacks.
Miracle-Gro AeroGarden Harvest Elite with Gourmet Herb Seed Pod Kit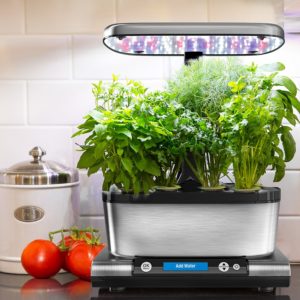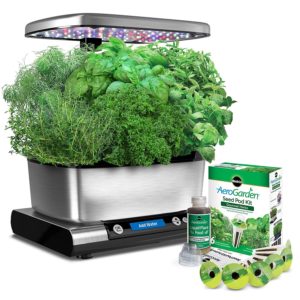 With this nano garden you can have real deal plans and vegetables in your apartment. Hight of the lamp stand allows to grow even short tomatoes and other higher plants. Aerogarden's kit has automatic system which will inform you on the control panel that it is time to water plans. This home garden maybe be a great gadget for your kids, due to its special designed additions elements that can be used during gardening: fertilisers and different pots with new plants.
Click & Grow Indoor Smart Herb Garden with 3 Basil Cartridges and Orange lid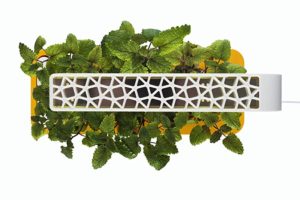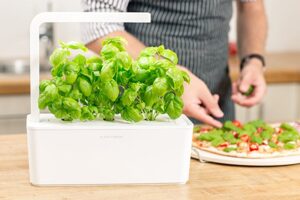 Smal, nicely made nano garden. This gadget will not only give you some greens but as well will fit in your kitchen. It has automatic light system and place for tree pots of plants. On the side there is a please to fill with water. This home garden may become very nice present and nice start of the home gardening.
Choosing the Right Nano Garden for You
When it comes to choosing the right nano garden for you, there are a few things you need to take into consideration. Below, you will find nine factors that are worth considering before making your final decision!
Type of Plants
One of the first things you need to consider when choosing a nano garden is the type of plants you want to grow. Do you want to grow flowers, vegetables, or both? There are different types of gardens that are better suited for different types of plants. For example, if you only want to grow flowers, a hydroponic garden might be a good option for you.
Climate
Another important factor to consider when choosing a nano garden is the climate in which you live. Different gardens are designed for different climates. If you live in an area with a lot of sun, you might want to choose a solar-powered garden. If you live in an area with little sun, you might want to choose a garden that uses artificial lighting.
Size
The size of your nano garden is also an important consideration. You need to make sure you choose a garden that is the right size for the space you have available. If you have a small space, you might want to consider a wall-mounted or hanging garden. If you have a larger space, you might want to consider a freestanding garden.
Maintenance
When it comes to maintenance, different gardens require different levels of care. Some gardens are very low maintenance and only require watering once in awhile, while other gardens require more frequent watering and occasional pruning. Consider how much time and effort you are willing to put into maintaining your garden before making your final decision.
Cost
Nano gardens can range in price from a few hundred dollars to a few thousand dollars. It is important to consider your budget when choosing a garden. Keep in mind that the more expensive gardens usually come with more features and are easier to maintain.
Material
Nano gardens are usually made from either plastic or metal. Plastic gardens are typically less expensive, but they are not as durable as metal gardens. Metal gardens are more expensive, but they will last longer and require less maintenance.
Features
Some nano gardens come with features that make them easier to use and maintain. For example, some gardens come with automatic watering systems, while others come with built-in lighting. Consider what features you want before making your final decision.
Ease of Use
You also need to consider how easy the garden is to set up and use. Some gardens come with everything you need to get started, while others might require you to purchase additional equipment. Consider your level of expertise before choosing a garden.
Customer Reviews
Finally, it is always a good idea to read customer reviews before making your purchase. This will help you get an idea of what other people think of the garden and whether or not it is right for you. You should, of course, take reviews with a grain of salt since anybody can write a review, but they can still be helpful.
Bonus: Nano garden Hyundai concept
You might know Hyundai as a car brand, but the company also has a very creative Engineering department that designs other products as well. With their Nano Garden Concept, Hyundai won the 2010 Fast Company Idea Awards in the category commercial and industrial products.
The Hyundai Nano Garden is an indoor garden made of glass. It's a planned as a controlled environment that's perfect to grow vegetables, herbs and even flowers. There's an built-in light and watering system that controls the interior conditions. The machine lets users know when to provide water and other nutrients.
Because it's no larger than a standard fridge, it fits in every kitchen. Additionally, it can acts as a natural air purifier for your home. This means that the Nano Garden can help prevent unwanted odors. Sounds great, doesn't it?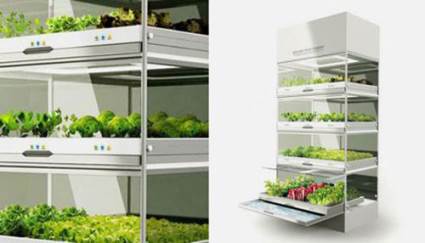 Hyundai Nano Garden stayed only as a concept at the moment. But idea is used and similar machines are made by other companies. Check Urban cultivators option in the internet. Usually they are still pretty expensive for average household. Read this review on urban cultivator, I think it is an interesting point of view.
Links:
Aero Garden.
Sun Blaster