Is there anything more beautiful than the grain structure of wood? It's perhaps one of the most beautiful products of nature. So why would be not use this resource in our kitchen? Wood is the perfect material for a kitchen.
A wooden kitchen always has a very homely feeling. It automatically creates a warm atmosphere, unlike man-made materials such as plastic and concrete, that often look cold.
Most people associate wood with a traditional kitchen design. However, wood can also be used in very modern kitchen (we have plenty of great examples in this article). Wood truly is timeless.
Examples of beautiful wooden kitchens
Note: I know that most kitchens use wooden drawers or cabinets. In this article I tried to collect natural looking wooden kitchens (i.e. wood that hasn't been painted).
This beauty was designed by Wiedemann Werkstatten in Munich. It's the perfect combination of modern kitchen design and a 'traditional' material. The cool thing about this kitchen is that it's laser cut. No nails or glue was used in its assembly. A total of 8 oak trees was used in the production of this kitchen.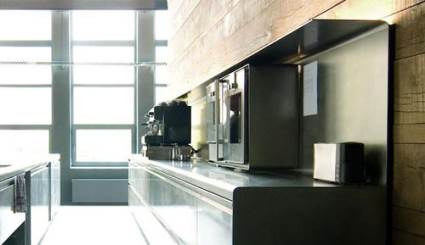 Wood is the real eye-catcher in this rustic kitchen: the material is used in the ceiling and kitchen cabinets. By combining it with dark elements, the designer was able to create a nice contrast. Apparently it can be found somewhere in the Netherlands.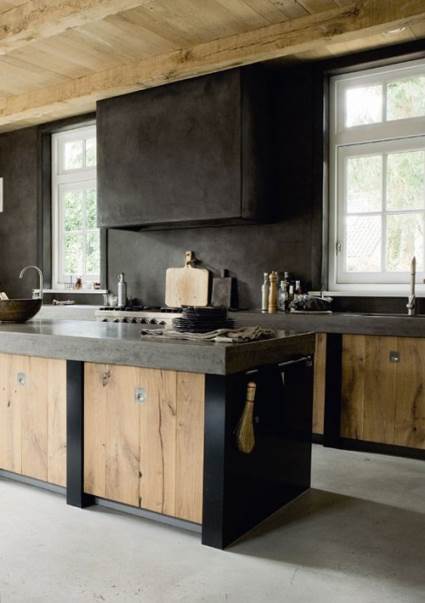 This wooden kitchen was already featured in one of our previous articles. It was designed by Marmol Radziner. There are no cabinets, so you really get a feeling of space and openness.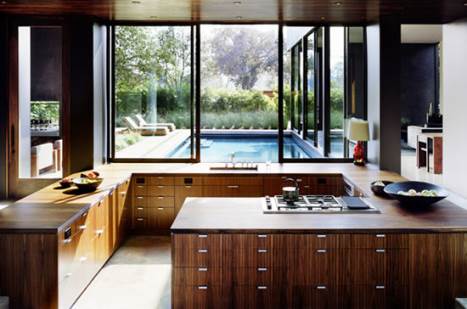 Another wooden beauty. This kitchen once again combines three very different materials: wood, concrete and metal. Just like the previous kitchen, this one doesn't has cabinets above the countertop. Instead it uses simple wooden shelves. (found on the website of Murray Mitchell).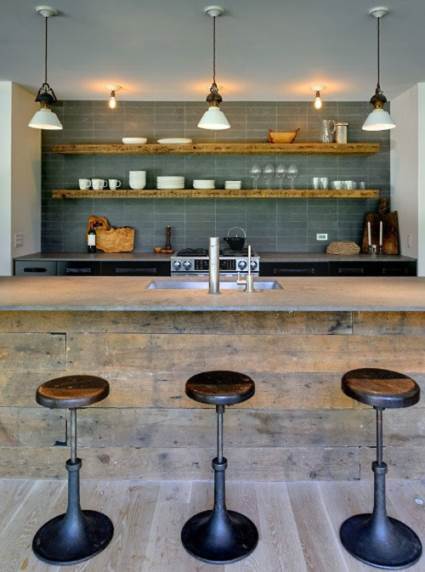 The natural wood of this kitchen emphasizes the natural beauty of this material. By not adding handles (the horizontal joints are used as handles), this kitchen looks even more stunning. This beauty was designed by Sebastian Desch.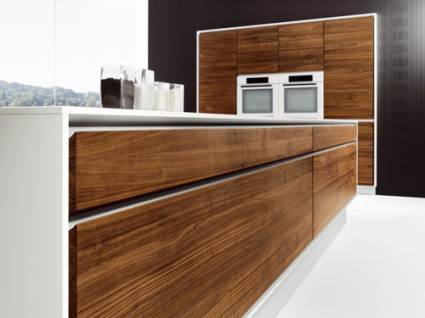 This is another kitchen to die for. The high ceiling draws your attention to those gorgeous wooden beams. The cabinets are made from subtly painted wood and the marble countertops and back-splash are the finishing touch.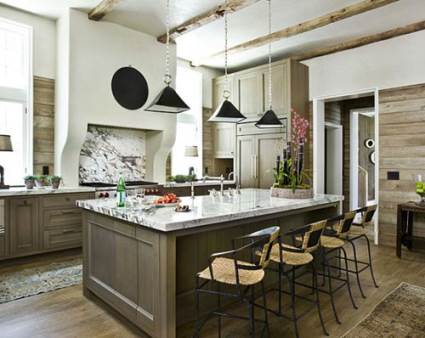 Nice, dark wood can sometimes be a real eye-catcher. This is definitely the case in this lovely wooden kitchen. The dark wood contrasts nicely with the light marble and stone floors. Don't forget to check out that beautiful chandelier and backsplash.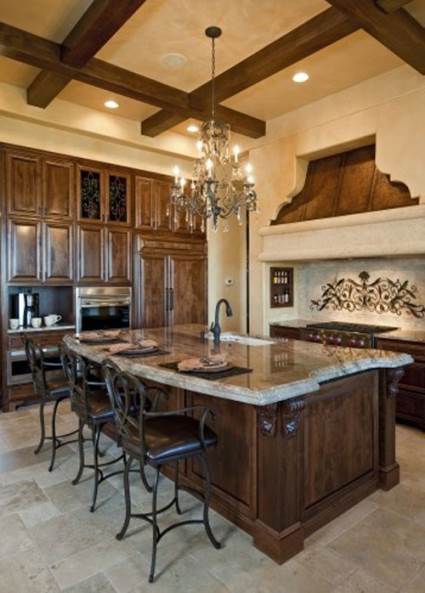 Big and beautiful: the dream of every cook. This kitchen has subtle wooden cabinetry and big slabs of white granite. The metal handles and appliances give it a modern look.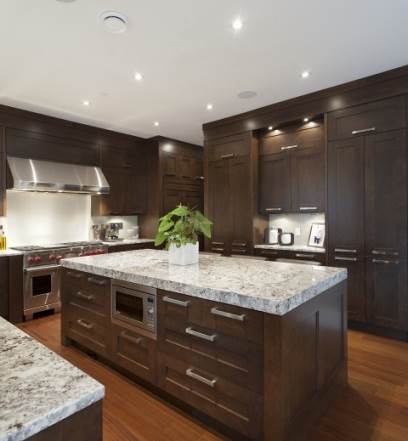 This kitchen is more 'playful' than the previous designs (if you know what I mean). The yellow bar stools are a nice touch. But let's not forget those beautiful wooden panels.