First things first, the right type of kitchen shelves may not only take the functionality of your kitchen up a notch but also improve its overall look quite a bit. If you manage to be creative enough, they may well turn out to be the most attractive element of your kitchen.
With that being said, let's take a look at some different ways of incorporating kitchen shelves into your kitchen.
Showing Off Fancy Tableware
If you're looking to show off your fancy tableware or vases, you can simply get a couple of shelves to complement your upper-cabinets. They can either be made to look as cabinets, or in contrast with them.
Basically, you would want to choose the shelves based on your upper-cabinets. For instance, if the cabinets are made of wood, shelves that come in a bright color may be ideal. Similarly, if the cabinets have a little glossy finish to them, wood or copper shelves may look great.
Modern, Elegant Look
If you're looking to give your kitchen a modern and elegant look, open shelves may be your best bet. However, the downside to them is that they are only designed to handle a limited amount of weight, and hence shouldn't be overcrowded.
This means that you would ideally need lower cabinets to provide the necessary support and hold all the stuff for you that the shelves can't. Such a design may make it a little challenging for you to maintain the kitchen. However it would also mean a significantly improved look.
Different Types of Shelves
There are many different types of shelves that you can choose from, ranging from open shelves that we just talked about to some cool DIY faux floating shelves to even those connected with plumbing pipes.
They may all come with different benefits and downsides. While some of them may help you utilize the tight spaces perfectly to create more storage, some others may result in a reduced storage though help make your kitchen look beautiful.
Looking to Maximize Storage?
If you're looking to get as much storage as you possibly can and want to use shelves for the purpose, you may want to consider replacing the cupboards with two rows of shelves.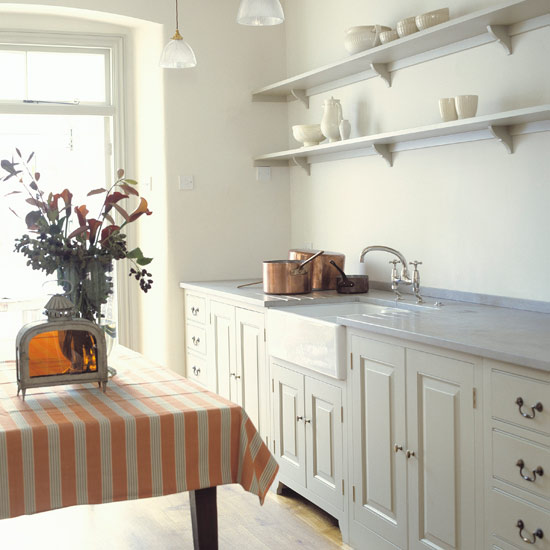 It may not only increase the storage, but also pave the way for better lightening in your kitchen, which is usually a little challenging when it comes to small spaces.
Image sources:
http://i.shelterness.com/2011/03/copper-and-wood-open-shelves-are-great-additions-to-standard-IKEA-kitchen-cabinets-750×938.jpg
http://housetohome.media.ipcdigital.co.uk/96/0000118fb/1f90_orh550w550/Plain-English.jpg