Coffee makers come in many different types, and the grind and brew ones are one of the most unique ones. It's because, as the name suggests, they come with a built-in grinder.While that may not seem like a big deal to you, it surely is for those coffee addicts who want to really "feel" every single sip of their coffee. Pretty much any good coffee maker may be able to produce coffee that tastes good, but only a few would be able to also maintain the freshness that needs to complement a great taste in order to produce the perfect coffee.
With that being said, if you're a coffee lover, this article is surely for you, as it will be discussing the best grind and brew coffee makers. So firstly, we will start off with reviewing some of the best grind and brew coffee makers on the market.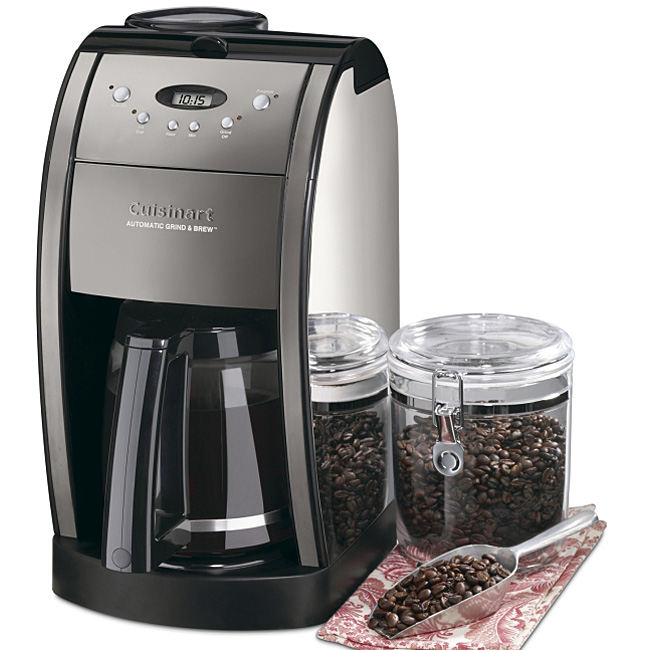 Capresso 465 CoffeeTeam TS
This is undoubtedly one of the best grind and brew machines out there. It's apparently better than some of the most popular and expensive grind and brew machines on the market, and certainly well worth the seemingly high price tag it comes with.
Coming to the features, it has pretty much everything you can imagine. You can produce highly "customizable" coffee that's exactly how you want it to be, thanks to the 5 different settings. There are also several other "control" features that even allow you to choose different aspects of your coffee such as darkness and flavor.
Finally, needless to mention, it produces the "perfect" coffee most coffee addicts are looking for, and also comes with many other features.
Great news, now it is on sale in the official Capresso store on Amazon. As well you can check review, customers are satisfied with their grind and brew machine from Capresso.
Another grind and brew coffee maker that comes packed with many advanced features and makes great coffee. Also, thanks to being an automatic machine, it offers a great level of convenience and ease of use.
One of the biggest advantages of this coffee maker is that unlike most others, it doesn't produces "lukewarm", but perfectly hot coffee. More importantly, it keeps the coffee hot for quite a long time, thanks to being insulated.
Also, another thing that really adds to the convenience and ease of use is the anti-spill top, which prevents the coffee from splashing around, even when pouring quickly and past vertical.
Reviews and prices are available here.
This is one of the more affordable coffee makers out there, but surprisingly, it's still a 12-cup one. That's a great feature right there.
Most importantly, however, it can certainly produce an excellent cup of coffee, though perhaps not as "customizable" or suited to your taste as the products above can. But again, it's priced much lower than them so that's a given.  Finally, it's very easy to use and clean, though the instruction book doesn't help much.
Then there's also the thermos carafe that keeps the coffee warm for a few hours.
You can check review and but this one of the Best Grind and Brew Coffee Makers here.
Factors to Consider 
Now, let us also take a look at a few important factors you may want to consider while choosing one of three coffee machines we reviewed above.
Quality of Coffee 
Well, of course, it's obvious that the quality of coffee is always going to be the most important feature. However, there's more to it, especially if you're a regular coffee drinker, which is likely the case if you're looking for a grind and brew coffee maker.  So if that's the case, you would want the machine to come with controls that allow you to make the coffee how you exactly want it to be.
It includes being able to choose the strength, flavor, darkness and more.
Insulated or Not 
An insulated machine will help keep the coffee hot for a few hours. Similarly, some of them even help make really hot coffee, even if the water used wasn't hot enough.
Burr Grinder 
A burr grinder is a very important feature of a grind and brew machine. It helps produce great coffee quickly, especially when it's automatic.
Other Features 
Similarly, there are also many other features that you may want to keep in mind, including:
Charcoal water filter
Auto off
Ease of use
Strength selector
Programmability
Grind-off function
Number of cups of coffee it can make at a time (whether 8 cups, 10 cups or 12 cups)