When you give children an opportunity to experiment in the kitchen, it fosters a sense of accomplishment and creativity while raising self-esteem. Below are three outstanding cookbooks that will motivate your young chef.
Good Housekeeping Illustrated Children's Cookbook
Good Housekeeping Illustrated Children's Cookbook by Marianne Zanzarella. Hearst books, 2000. 166 pages. Tr. ISBN 1588160114.
For the beginning cook, Good Housekeeping Illustrated Children's Cookbook is an excellent resource with over 50 delicious kid-tested dishes that children will love to prepare and eat. The book includes 22 pages of introduction that stress kitchen safety and explain cooking methods in great detail.
Each recipe is clear, concise, and presented in a step-by-step format. All recipes include total preparation and cooking time, recommended skill level, and specify when guidance is necessary.
Another great feature of the book is its comprehensive and illustrated glossary of cooking utensils, terms, and techniques. The photography by Tom Eckerle is inclusive given that both boys and girls and children from a wide variety of ethnic backgrounds are included.
Cooking steps and the appetizing finished products are also captured on film. With delicious recipes like Blueberry Corn Muffins, Overnight French Toast, Crunchy Chicken Fingers, Surprise Burgers, and Double Chocolate Brownies, this book is sure to please children ages 9-12.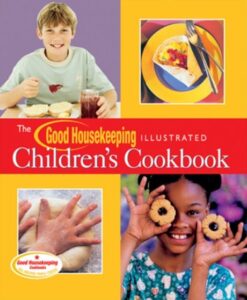 Gifts to Make and Eat
Gifts to Make and Eat by Elizabeth MacLeod. Kids Can Press. 40 pages. ISBN 1550749560
Gifts to Make and Eat provides over 30 recipes and instructions for children ages 8-12 to create and offer to others as gifts. Designed principally for children who are familiar with cooking.
A number of the recipes do not need to be cooked, (layered soup mix, trail mix) allowing inexperienced and young children to utilize this book with adult guidance.
Children will be drawn to the attractive and simple color photographs and illustrations on uncluttered pages. Photo captions provide additional suggestions and information about recipes ("Anyone with a dairy or egg allergy will appreciate this loaf", "Hikers and cross skiers will love your homemade trail mix").
The book offers fantastic ideas for adding personal touches ("Try personalizing these muffins by adding a friend's favorite berries."). These edible projects give children who love to cook the opportunity to create inexpensive and creative gifts from the heart.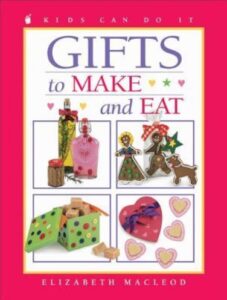 Cooking the East African Way
Cooking the East African Way by Bertha Vining Montgomery and Constance Nabwire. 72 pages. Learner Publications. Library Binding. ISBN 0822541645.
This revised and expanded edition of Cooking the East African Way is part of the Easy Menu Ethnic Cookbooks series. It features the customs, complete menu suggestions, and recipes of East Africa. It now also includes healthy and low-fat cooking guidelines.
The authors, natives of Uganda and specialists in home economics, include descriptions of the traditional East African Table, shopping lists, and footnotes with the many recipes. The book is well organized and includes introductory notes; safety guidelines; glossaries of cooking utensils, terms, and special ingredients; and an explanation of how to substitute ingredients.
The large and full-page photographs enhance the text. As a result, the food appears very appetizing. The book appears very orderly and less chaotic than many cookbooks, due to ample white space on most pages.
Some tasty recipes include Banana and Meat Stew, Ethiopian Flat Bread, and Greens with Coconut Milk. Although this book is for children ages 10-13, many recipes seem to be at the intermediate level and may require a great deal of adult direction.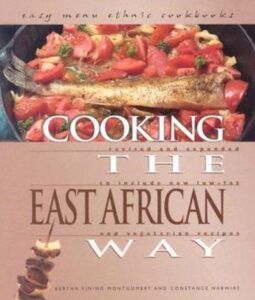 See more:
Making the Cooking Area a Safer Place