Retro is trendy. A lot of people buy vintage clothes or antique furniture. It's no surprise then that we see more and more retro fridges in kitchens around the world. These refrigerators act as real eye-catchers because of their funky colors and unique design. It doesn't matter if you have a contemporary kitchen or a very modern one; retro fridges fit anywhere. If you're planning on buying a retro fridge, you should check out these 5 gorgeous models.
In the realm of modern kitchens, a touch of nostalgia is making a stylish resurgence with the retro fridge.
These legendary appliances elegantly bridge the gap between the past and the present, resurrecting classic forms from the past while incorporating modern functionality.
The fascination of these vintage-inspired wonders is redefining the realm of kitchen aesthetics as we enter 2023.
Let's embark on a journey to discover the 5 best retro refrigerators, each promising to be a statement piece that transforms your kitchen into a space that not only preserves your groceries but also preserves a piece of history.
Things to Consider Before Buying Retro Fridges in 2023
When considering purchasing a vintage refrigerator, there are a few important elements to consider. These factors not only ensure that you choose the best match for your culinary paradise, but also that you achieve a harmonic balance of nostalgia and pragmatics.
Size Does Matter
Measure your kitchen area before adding an element of nostalgic flair. Retro are available in a variety of sizes, ranging from tiny versions perfect for cozy kitchens to full-size ones that make a powerful statement.
Storage requirements
Evaluate your storage demands. Do you want a fashionable small fridge for beverages and snacks, or are you a culinary enthusiast who requires plenty of space for fresh produce and ingredients?
Energy Conservation:
Accept the allure of the past without sacrificing the future. Choose a vintage refrigerator that combines traditional style with cutting-edge energy-saving technologies.
Functionality and features:
While the looks are appealing, make sure your selected vintage fridge has modern amenities like adjustable shelves, temperature control, and frost-free functioning.
Style and color
Vintage doesn't necessarily entail limited options. Whether it's a pastel dream or a strong statement piece, choose a color that goes well with the design and color scheme of your kitchen.
Ratings and reviews
Investigate consumer ratings and reviews before making a purchase. Authentic experiences shed light on the effectiveness and durability of the product.
Warranty and assistance
A warranty provides reassurance. Verify that the manufacturer of the refrigerator you've picked offers dependable customer service and replacement components.
Incorporating a retro fridge into your kitchen is an investment that merges aesthetics with functionality. By considering these vital aspects, you'll not only enjoy a charming addition to your culinary space but also a piece of history that stands the test of time.
5 Best Retro Fridges 2023

Bodare Retro Mini Fridge
The Bodare Retro Mini Fridge is a captivating fusion of nostalgia and innovation, embodying the essence of a retro full-size refrigerator in a compact design.
This mini fridge captures the elegance of a bygone era while catering to the demands of contemporary living.
It's striking exterior, reminiscent of the golden age of refrigeration, conceals a spacious interior equipped with state-of-the-art features.
Pros:
Spacious interior despite compact design
Energy-efficient technology
Adjustable shelves for versatile storage
Whisper-quiet operation
Eye-catching retro design with chrome accents
Cons:
Limited freezer space
No built-in ice maker
Buy on Amazon: https://www.amazon.com/dp/B0C5HTDKVK

Crosley Retro Mini Fridge
The Crosley Retro Mini Fridge brings a delightful blend of nostalgia and modern functionality to your space.
With its vintage-inspired design and compact size, it's perfect for adding retro flair to small kitchens, dorm rooms, or entertainment areas.
This mini fridge offers energy-efficient cooling, adjustable thermostat settings, and ample storage space, making it a versatile addition to your home.
Pros:
Vintage-inspired design adds retro charm to any setting.
Compact size fits well in tight spaces, making it ideal for small living areas.
Energy-efficient cooling technology helps save on electricity bills.
Adjustable thermostat allows you to customize the temperature to your preferences.
Spacious interior provides ample storage for your favorite beverages and snacks.
Cons:
The freezer compartment is limited in size, suitable for small frozen items.
Manual defrosting is required periodically for optimal performance.
Buy on Amazon: https://www.amazon.com/dp/B0BFG544HR

Galanz GLR31TRDER Retro Refrigerator
Elevate your kitchen aesthetics with the Galanz GLR31TRDER Retro Refrigerator, a timeless piece that seamlessly marries vintage charm with modern convenience.
Designed to capture the essence of bygone eras, this refrigerator exudes nostalgic elegance while catering to the demands of contemporary living.
Its captivating retro design, complete with sleek lines, chrome accents, and bold colors, adds a delightful focal point to any space.
Pros:
Striking retro design enhances kitchen aesthetics.
Spacious interior with adjustable shelves for versatile storage.
Energy-efficient performance reduces consumption and bills.
Dedicated freezer compartment for frozen items.
Reversible door design for flexible installation.
Cons:
Limited freezer space for larger items.
Some users may desire more color options.
Buy on Amazon: https://www.amazon.com/dp/B07QXTTC4V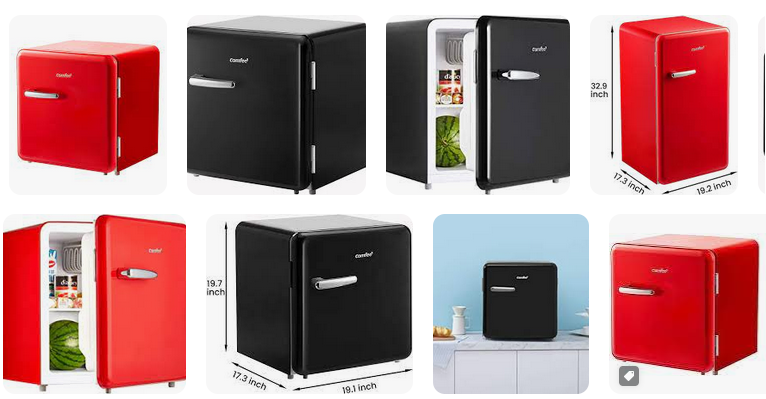 COMFEE 1.6 Cubic Feet Solo Series Retro Refrigerator
Elevate your kitchen ambiance with the COMFEE 1.6 Cubic Feet Solo Series Retro Refrigerator. This appliance seamlessly fuses vintage aesthetics with modern functionality, offering a charming addition to your living space.
The retro design, complete with sleek lines and classic finishes, evokes a sense of nostalgia while delivering contemporary convenience.
With its 1.6 cubic feet capacity, adjustable shelves, and dedicated freezer compartment, this retro refrigerator provides ample storage options for your favorite groceries.
Pros:
Captivating retro design adds a unique touch to your kitchen decor.
Compact size is ideal for small spaces, dorm rooms, or offices.
Energy-efficient performance reduces environmental impact and energy bills.
Adjustable shelves accommodate items of varying sizes.
Separate freezer compartment offers convenient frozen storage.
Cons:
Limited internal space may not be suitable for larger households.
Lack of advanced features such as ice makers or digital controls.
Buy on Amazon: https://www.amazon.com/dp/B08T8YW757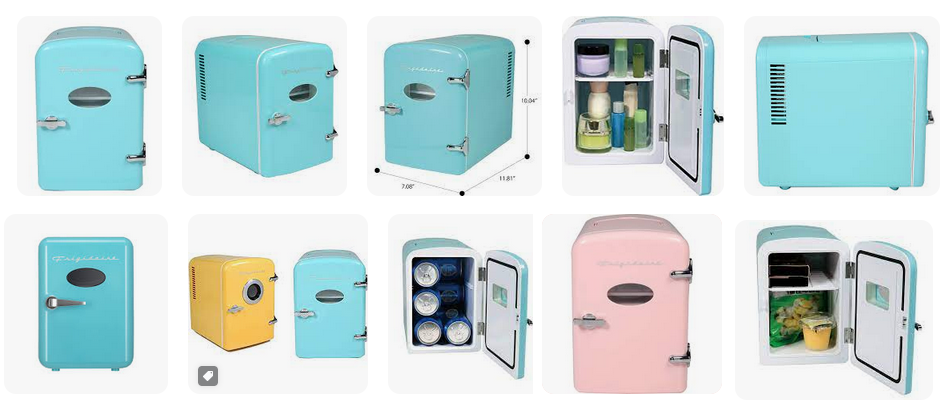 Frigidaire EFMIS175-BLUE Retro Refrigerator
Experience the perfect blend of vintage charm and contemporary convenience with the Frigidaire EFMIS175-BLUE Retro Refrigerator.
This appliance pays homage to classic aesthetics while incorporating advanced features for your modern lifestyle.
The iconic retro design, showcased by its vibrant blue color and chrome accents, adds a touch of nostalgia to any space, making it an eye-catching addition to your kitchen.
Pros:
Stylish retro design
Compact and space-saving
Efficient cooling performance
Adjustable shelves
Convenient features (reversible door, adjustable thermostat, interior lighting)
Cons:
Limited storage capacity.
Buy on Amazon: https://www.amazon.com/dp/B08NPPM5TZ
Bonus: more retro fridge desings
Big Chill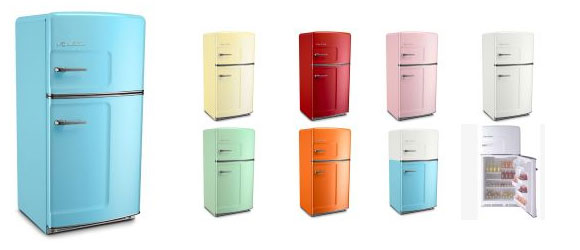 Big Chill has a great collection of retro refrigerators. They combine a vintage old-school look with modern technology. All their models have a stamped metal body, authentic chrome trim and they're frost free. If you want you can check the 'interior ice maker' option box.
Buy on Amazon: bigchill.com
---
Vintage Fridge Company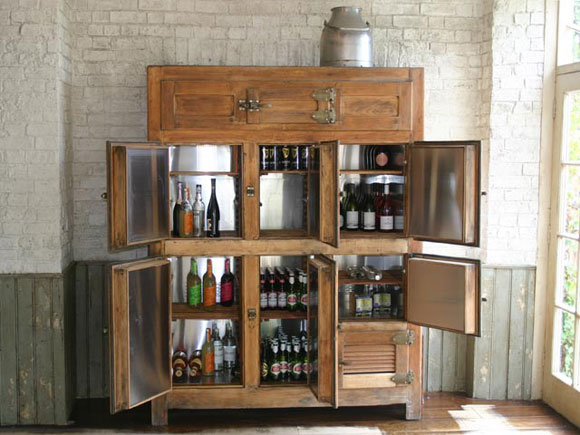 A fridge doesn't get more retro than this. Actually, this is no surprise if you company is called 'the vintage fridge company'. They are specialized in the refurbishment and supply of vintage refrigerators. All of their models are fully guaranteed and can be shipped worldwide.
You'll find more information about the renovation process and the company.
Buy their website: thevintagefridgecompany.com
---
Smeg

If you can't get enough of the 50's, this fridge is a must-have! The exterior might look like it's more than 50 years old, but the interior has all the latest technology for a top performance and high levels of energy efficiency.
These retro fridges comes in 10 different colors; from a subtle cream to lime green. Every model also has a small icebox for convenience. Great news for small appartmenta and offices: Smeg has as well compact model shown here in red color.
You can get more information about the Smeg fridges on their website.
---
Gorenje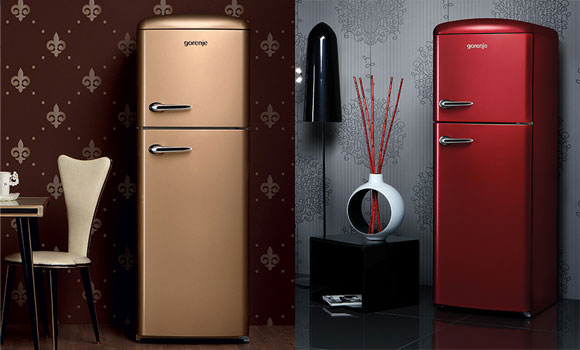 These Gorenje fridges are the perfect combination between old and new. They would fit in a modern kitchen as well as in a more classic kitchen. They come in every color imaginable. Simple black or vibrant orange… the choice is yours.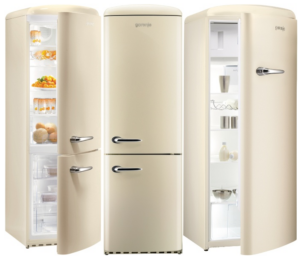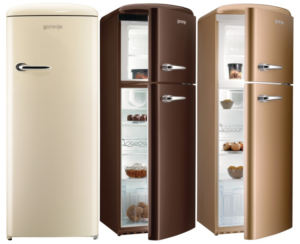 Visit for the full range their website: gorenje.com
---
Elmira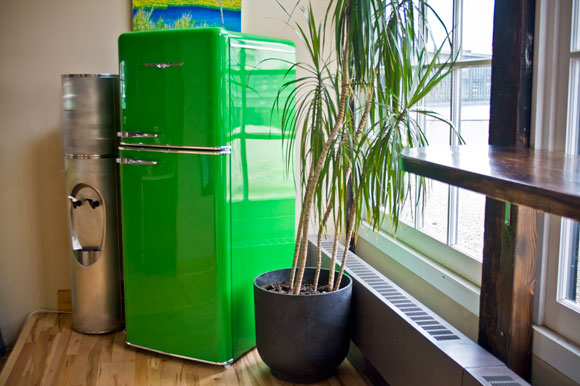 The Northstar line from Elmira is a perfect fit for a contemporary or modern kitchen. You can choose between 9 pre-determined colors or create your own. And just like all the other models on this page, they have a vintage look on the outside but all the latest tech on the inside.
More details available here.
Final Verdict
In the dynamic landscape of kitchen design, the retro fridges of 2023 shine as beacons of timeless style and modern innovation. These gadgets seamlessly combine nostalgia and usefulness, converting commonplace settings into enthralling culinary worlds.
Homeowners have the chance to rethink their kitchen decor and produce a seamless fusion of the past and present with each retro fridge on our list. These refrigerators exhibit the continuing allure of retro charm, whether it is through their alluring looks, effective cooling, or adaptable storage choices.
These top options serve as a timely reminder as we embrace the future that reinventing our kitchens with a dash of retro style is a lovely way to make a statement while taking use of modern conveniences.
FAQs
Q: Are retro fridges energy-efficient?
A: Many retro fridges feature advanced cooling technology for energy efficiency, but it's advisable to check the product specifications for precise details.

Q: Can I find a retro full-size refrigerator with modern features?
A: Absolutely! The market offers retro full-size fridges with modern conveniences such as adjustable shelving, LED lighting, and more.

Q: Are retro fridges noisy?
A: Most retro fridges are designed for quiet operation, ensuring minimal disruption in your kitchen environment.

Q: Do these fridges require special maintenance?
A: Regular maintenance, including occasional defrosting and cleaning, is recommended to keep your retro fridge functioning optimally.

Q: Can I find replacement parts for retro fridges?
A: While availability may vary, many manufacturers offer replacement parts and customer support to help you maintain your retro fridge.
---
Want to know more? Read article about retro kitchen.