Very own Lego key holder
Another quick tip that can make your life easier: if you don't want to lose your keys it's best to keep them in the same place. That's why a lot of people hang a key holder in their kitchen or hallway. You can buy one of these in almost any home decor store.
But you can easily make one yourself! If you have (or have had) kids, chances are that they play with Lego. When I was a kid, I had boxes full of these great toys. Nowadays these boxes of Legos are stored in the attic, but when I saw this tip, I instantly went looking for them.
You can have fun customizing this keyholder in any way you want. Whenever inspiration hits you can build a new something on the side.
While I was looking around on Google+ (yes, some people use Google+), I came across this Lego Key Holder. I immediately thought; "Why didn't I think of that"? Such a simple idea… And you can even add a bit of text: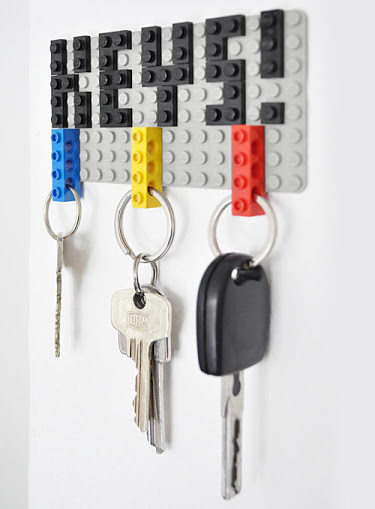 I'm sure a lot of you will have your very own Lego key holder soon enough.
You can get these pieces – and many other pieces – directly from LEGO through their Pick-A-Brick program. Right now I only see the grey on my search, but you can look through to see what else there may be.
http://shop.lego.com/en-US/Pick-A-Brick-11998