Kitchen placemats from West Elm
Check out these awesome blueprint placemats from West Elm. These are perfect for people who have trouble setting up a table. Simple use these blueprint placemats and put the forks, knifes, spoons, glasses and plates on them. It's so easy even kids can do it.
These placemats are made of paper, so you can use them only once. Fortunately, each package contains 50 placemats (unfortunately this product wasn't available when this post was written, but I hope it'll be back soon). Each paper measures 18.25″ x 12″.
*UPDATE*: The blueprint placemats are still unavailable, but West Elm also sells them in brown for 22.30 euro!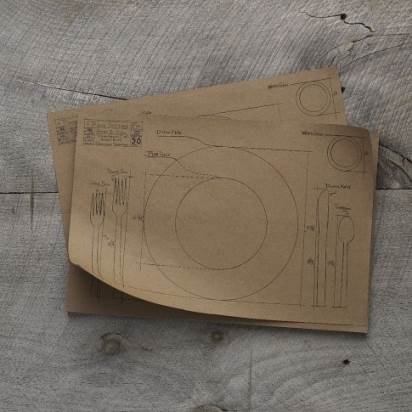 These blueprint kitchen placemats helpfully diagram the correct placement of dinnerware on the mat. Made of recycled paper, they are intended for one use. The placemats were designed by Cake Vintage and are available to purchase at West Elm. Made from disposable paper with a smart design. Each placemat has a blueprint-style sketch showing how various tableware should be placed.
Reviews:
Have used them for a while and they have held up beautifully. Very well made and have not faded at all after much laundering. My kitchen is done in Fat French Chef and these just fit the bill. Great product!

I got this as a gift from my husband because I absolutely love the theme in my kitchen. These were very nice placemats and very soft! The design looked just as the picture does on here.