Planning a kitchen redesign is hard because there's so much planning involved. One of the problems is that it's difficult to imagine how it will look when it's finished. That's where kitchen design software comes in handy.
There are several software packages that can be used to design a kitchen. The question is: which software package should I use? In order to solve this question we review four kitchen design software packages.
Home Designer
Website
| $79
Home Designer is software that you can use to design an entire home. You can create living rooms, bathrooms, bedrooms … and of course kitchens.
One of the most important features of every kitchen design software is the object library. It's important that it contains plenty of objects in various styles. After all; not everyone has the same taste. The object library of Home Designer is impressive. It contains more than 30 sinks, 140 floors, 200 lighting fixtures, etc. So you'll have plenty of choice. And if you aren't happy with that, you can create your own cabinets from scratch.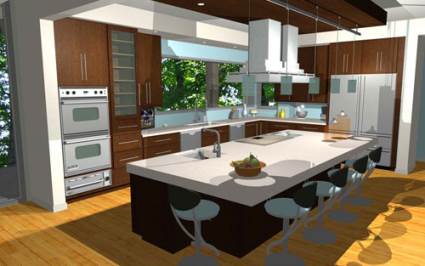 The only downside of Home Designer is that it's fairly difficult to use. You can create really beautiful and complex designs, but you need to spent some time to get to know the program first. The good thing is that they offer video tutorials that can get you started.
Unfortunately this software package is only available on Windows (XP, Vista or 7). Mac users will have to find something else…
Score: 9/10
AutoDesk Homestyler
Website | Free
We already reviewed the AutoDesk Homestyler in this article. For those of you who missed it, here's a short recap:
With the AutoDesk Homestyler you can bring your interior design ideas to life. Start from scratch and design your own floor plan, or upload an image. After that you can start designing your kitchen. Grab a cabinet, door, sink… from the object library and place it on the floor plan. If you're happy with the result you can take high-resolution snapshots of your design. And if you want a second opinion, you can share these with friends or family via email or Facebook.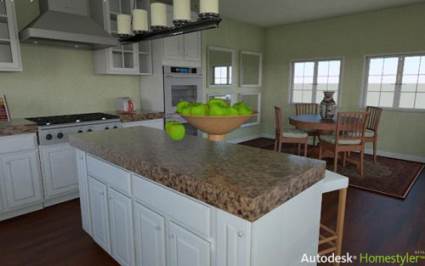 The big advantage of the AutoDesk Homestyler is its ease-of-use. The software is very straightforward and you'll be designing a kitchen in no time. Compared to other kitchen design software packages is the object library rather limited though.
On the plus side: you can try the software for free and you don't need to install anything because it works inside your internet browser. This means that it will work both on PC and Mac.
Score: 8/10
Interior Design Suite
Website | $39.99
The Interior Design Suite is more than just kitchen design software; you can use it to design an entire home. But we're only interested in the kitchen design aspect…
You can design a kitchen in both 2D and 3D. I'm not sure if my computer was to blame, but the 3D option was rather sluggish. If you computer can handle it, you can use the 3D function not only to built, but to do a virtual breakthrough.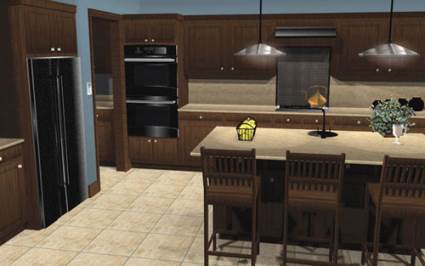 One thing I really like about the Interior Design Suite is the level of detail of the electrical plans and plumbing. These are really handy if you're creating a viable design. Another handy feature was the cost estimator. I doubt it's very accurate, but it can give you an idea about the total cost of your design.
The object library should suffice for most users. You can choose from a wide selection of kitchen cabinets, appliances, sinks, windows, doors, etc. The software itself is not as easy to use as the Autodesk Homestyler, but you don't need to be a rocket scientist to try it either.
Score: 8/10
SmartDraw
Website
| from $197
Smartdraw is not designed as a kitchen design software. It's designed as multipurpose software for floor plans, electrical drawings, office plans, maps, etc. Nevertheless we can create it to design a floor plan for our kitchen.
Because it's multipurpose software it doesn't have a 3D feature. All you can do is create a floor plan and see a top-down view. The good thing is that you can create fairly detailed HVAC and electrical plan.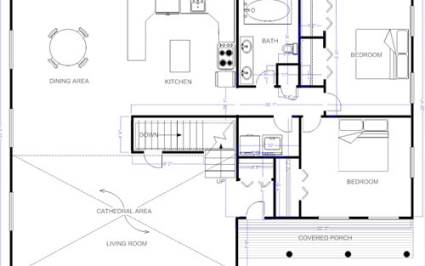 The object library is very basic, due to the fact that it's planning software (and most object look the same from the top down). There are about two dozen appliances and sink styles. You can also add other elements such as doors, windows, lamps and decorations.
Is it easy to use? Yes. Would I recommend it? No … It's great for designing floor plans but it lacks some important features. And it's quite expensive compared to other kitchen design software packages.
Score: 4/10