I bet everyone has cut himself at least once whilst cooking (hopefully not too bad). Some people might have even cut themselves when they take a knife from a drawer, especially if they are stored without proper protection. The last thing you want is cut in your finger.
That's why MoMA designed these magnetic knife cases. These plastic cases protect you from cuts and help you store your knives safely. When you're finished cooking, simple clean your knife and snap the plastic case securely over it. The magnetic closure makes sure it stays in place. According to the manufacturer, these cases will also help you keep your blades sharp.
These magnetic knife cases come in two different sizes: a small one for $20 and the bigger version for $25. You can buy them online at momastore.org.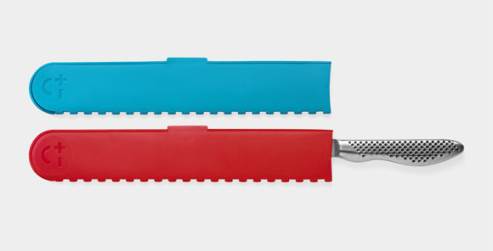 This item is extremely well built, sturdy and very easily mounted, with easy removal should it be necessary for moving, remodeling, etc. Extremely good with holding lOTS of knives of all sizes. Knives are held very securely and do not shift or slip. I am VERY pleased with this product.
Bottom line, I would definitely recommend a magnetic case as a way to store knives. I would definitely recommend this strip over the others if you care about quality and looks.