A kitchen island can – literally – be the centerpiece of a kitchen. It can be functional and beautiful at the same time. That's exactly what this stone top kitchen island of Williams Sonoma is all about.
The styling resembles of antique French utility tables, thanks to the 'weathered' wood and rustic metal handles. Each of these stone top kitchen islands are handcrafted and made of reclaimed pine and natural stone.
Below the built-in drawers you'll find removable baskets, which make this beauty even more practical. The bottom shelf provides extra storage space for several kitchen appliances. On one side of this kitchen island there's a handy iron bar for towels.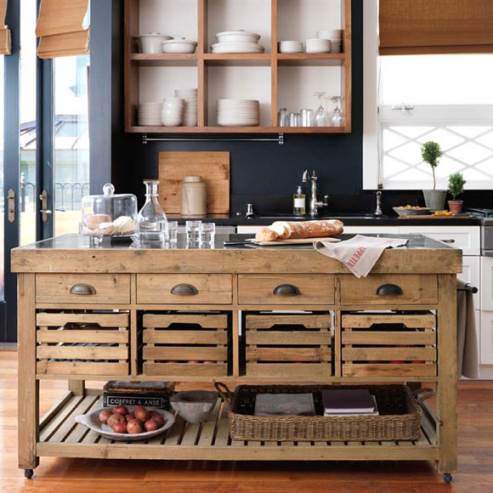 Moving this stone top kitchen island is easy, thanks to the locking caster wheels. This will come in handy during diners or when you want to give your floor a good scrub.
This stone top kitchen island comes in two versions: a single island with four drawers and four baskets and a double island with eight drawers and shelves. (Measurements single island: 36 3/4″L x 31 1/2″W x 35″H / measurements double island: 69 1/2″L x 31 1/2″W x 35″H).
Bad news for everyone who lives outside of the U.S; this product is not available for international shipping. US citizens can order the stone top kitchen island for $1295 (single island) or $2495 (double island) on Williams Sonoma.