Houses and appartments are getting smaller and smaller. People are still looking for extra space for our ever-expanding cities. That's why in the future we'll have to be more efficient with the space we've got. But according to Alan Chu, this isn't a problem.
This Brazilian designer created a colorful interior for this small 36 sqm (388 sqft) apartment in São Paulo. He chose a single element – the wooden 'crates' – to organize the space as efficiently as possible.
These pinewood crates are arranged in a seemingly random way to create a youthful and unpretentious atmosphere. The crates have several functions: they serve as cabinets, pantry, TV-furniture, etc. They are also used to camouflage the existing structure of the mezzanine.
The kitchen, as the rest of the apartment, is very small. Nevertheless there's plenty of room to work. There's a small sink, a stove and plenty of storage.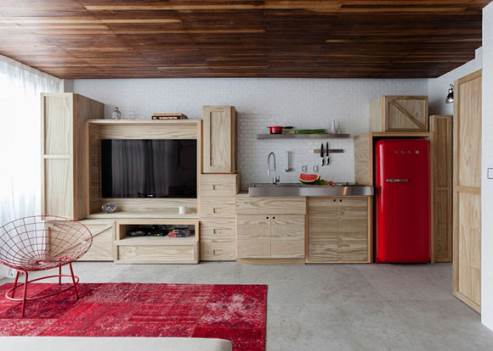 The finishing touch and eye-catcher of this kitchen is absolutely the gorgeous red SMEG fridge. The retro styling of this refridgerator compliments the rest of the interior nicely. Here's a nice touch: the interior of the cabinets next to the fridge are painted in the same beautiful red color!