A kitchen isn't complete without a beautiful pendant lamp above the kitchen island or dining table. That's why we collected 10 gorgeous pendant lamps for your inspiration. Enjoy!
Tom Dixon Beat Light
The Beat Lights are a series of pendant lamps inspired by the sculptural simplicity of brass cooking pots and traditional water vessels on the subcontinent. They are spun and hand-beaten by renowned skilled craftsmen of Moradabad in Northern India. You can choose between three different shapes.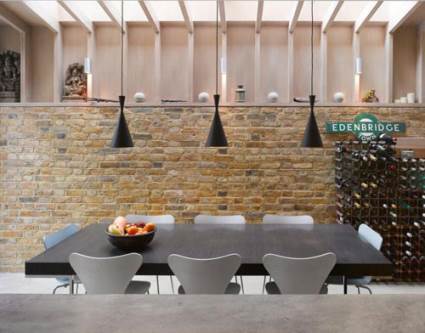 &tradition Bulb
These lovely &tradition Bulb pendant lamps are perfect for a kitchen. The reflection and the thickness of the mouth blown glass gives it a rich and vibrant life. This is definitely one of my favorites!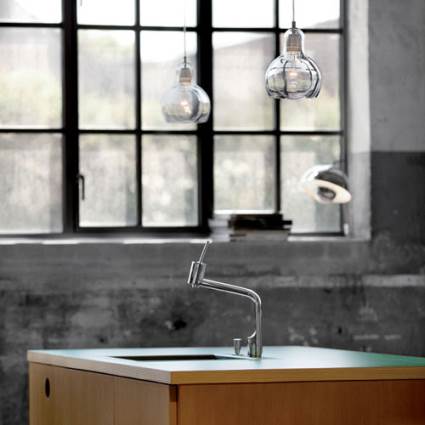 Flos Fucsia
The Flos Fucsia pendant lamp has a cone-shaped exterior and elongated internal light source, details evocative of the flower of the same name. The blown glass shade features a 1.5″ sandblasted edge and translucent silicone ring. One thing is for certain; this lamp looks great above a kitchen island or dining table.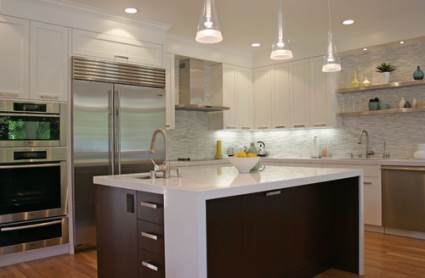 Foscarini Caboche
If you like a bit of bling-bling in your kitchen, this is the lamp for you. This is a pendant lamp exudes modern elegance, a dainty appeal but exclusively contemporary vibe. Since the light of the Foscarini Caboche spreads out concentrated at the bottom and the top with light diffusion on the sides it is a good lighting piece for dining tables.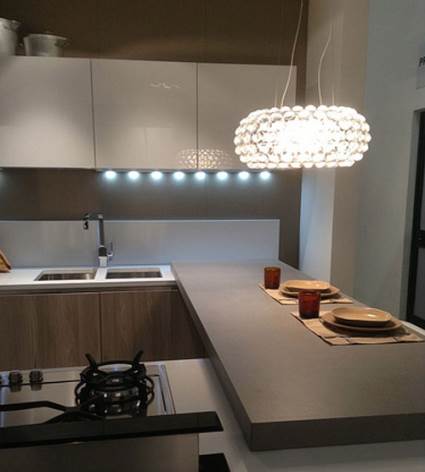 Kartell FL/Y
Add some color to your kitchen with the Kartell FL/Y pendant lamp. It combines a playful color with a trendy shapes to create a unique design object. These lamps really perk up an interior and will undoubtedly put a smile on your face while you're cooking.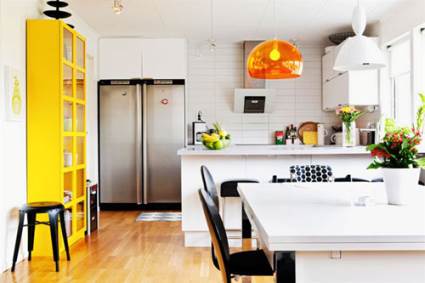 Marset Pleat Box
The Marset Pleat Box is one of my favorite pendant lamps for kitchens. The brilliant white enamel interior creates a glitter effect, which enhances the light from the lamp. It can also be supplied in gold on the inside, which generates an extremely warm light.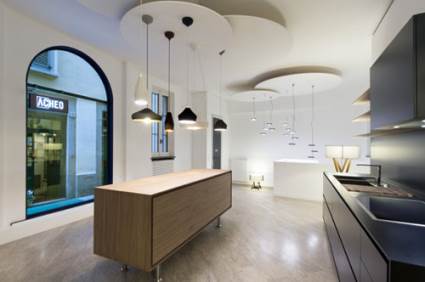 Moooi Random
The Moooi Random Light is a great option if you want to experiment with the trend but not go too big. It is a design classic that will never feel too "excentric".  That's why it's the perfect pendant lamp for kitchens.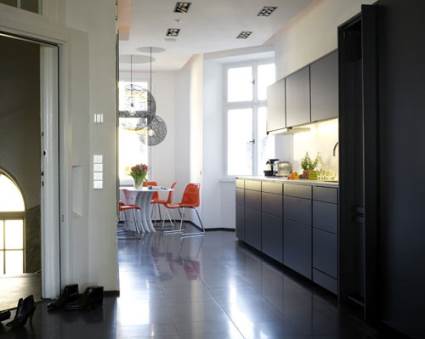 Artemide Castore
The Castore has a beautiful, mouth-blown lampshade. Â It's available in various sizes, so you will undoubtedly find a model that fits your kitchen.
Diesel & Foscarini Glass
You might remember this pendant lamp from this semi-outdoor kitchen by Paula Martins. But I bet that the lovely glass shade of the Diesel & Foscarini Glass will fit in any kitchen!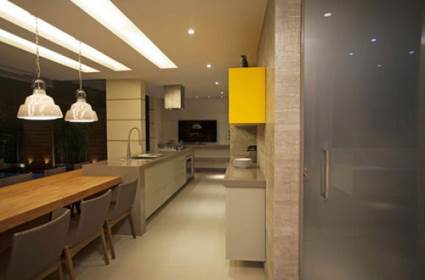 Ingo Maurer Campari
If you like trendy lighting with a unique twist, you should take a look at the Campari pendant lamp by Ingo Maurer (yes, those are glass Campari bottles). Although these lamps are not for everyone, I think that at least some of you will like these extravagant lamps.