Kitchen Cabinet Doors Replacement Overview
Homeowners quickly beautify their kitchen by replacing cabinet doors. When you modernize your kitchen starting with the cabinets, you have made it more worthy for you and the resale market. If selling, you can get about 68% of your kitchen reno vation costs back.
Kitchen cabinet doors replacement adds value and appeal. In addition, it gives a much worn kitchen new life being a great technique for the budget conscious. Cabinet refacing will have your kitchen looking new when you replace drawer front panels and cabinet doors. By adding new veneer to the cabinet box exterior, you will be amazed at your total revamp effort.
Also, though it may seem a rather still improvement to many, it has the potential to completely change the way your kitchen looks. After all, cabinets tend to be an important part of your kitchen, and if they're attractive, it surely helps to even make your kitchen look considerably more attractive.
Change Your Kitchen Looks with Cabinet Doors
You will change the entire look of your kitchen when you change out your cabinet doors with expending little in money and time. There is no need to replace the cabinets themselves. You can simply sand, stain, or paint in a matter of a few days and reinstalling them in no time. The layout of your kitchen remains the same and the cabinets stay where they are. This will avoid the demo and major renovation of a total kitchen remodel. You will be able to add molding, organizers, shelves and other extras as needed or budgetary guidelines allow.
Where to go and What's Offered
Home improvement centers, cabinet manufacturers, and Internet retailers provide many styles of kitchen cabinet doors replacement to suit your style and budget.
You can purchase finished or unfinished doors. With unfinished, as a remodeler, you have the flexibility for creative options and finishes. These are great for the do-it-yourself person who loves projects. If you don't want to put the time and detail into unfinished cabinet doors with staining, painting, buying brushes, drop clothes and all that goes with it, opt for finished doors.
Replacing your cabinet doors is not as difficult and time plaguing as it once was. You have an overabundance of cabinet doors nearby. There are many choices providing you with many styles and different wood. After you have measured the cabinet opening, go shopping to find what you like. Cabinet manufacturers provide craftspeople capable of making what you want.
Your kitchen cabinet doors are opened and closed constantly and no other object in the house gets more use. Over the years, your cabinet doors being opened and closed start to lose their finish, especially around the hardware. The cabinet boxes hardly get any wear and that's good, since replacing those calls for new cabinets. It takes no special tools to remove doors and reinstall.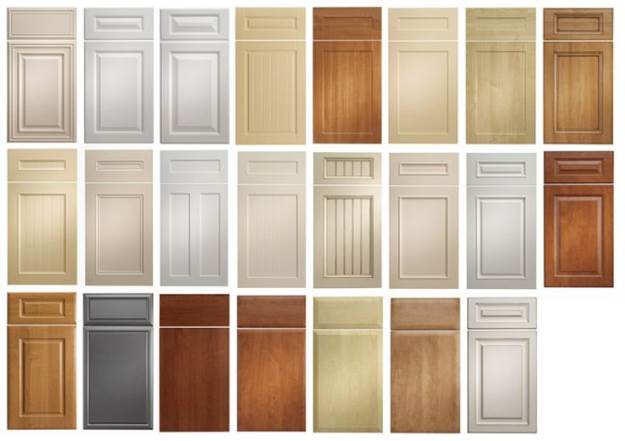 Different Looks Available
Country Charm—When you paint your cabinets and doors a classic white adding ceramic white knobs or antique brass handles, shows that you have pulled it off. Just add a braided rug over the floor, some white frilly curtains, and checkered tablecloth and you have the country farm look so comfortable and charming.
Trendy European—Modern Euro methods for your cabinet doors is to purchase this style adding wood pulls at the bottom edge and add hidden hinges to bring it all together.
Replacement Door Panel Styles
There are many styles from which to choose:
Flat Beaded Panel
Flat Panel
Flat Panel with Arch
Flat Panel with Cathedral
Raised Panel
Raised Panel with Arch
Raised Panel with Cathedral
Shaker Beaded Panel
Shaker Doors
Raised Panel with Flat Arch Door
Raised Panel Door
You can see these at cabinet showrooms or home improvement centers. There are many more styles available to pique your interest in a variety of woods and tones.
Refacing Existing Cabinet Boxes
Refacing is less expensive and easier than remodeling your kitchen. Boxes and face frames are left as they are. You will only install new prefinished doors and possibly drawer fronts if needed and to match new hardware. This will look as if you installed brand new cabinets.
Easy Installation
If you are a do-it-yourselfer with a few basic tools, you can do this easily and quickly. All kitchen manufacturers and home improvement centers have a guide sheet for doing this every step of the way. With a few carpenter's tools, anyone can do this easy project. You will be able to do this in about a few hours.
Finally, replacing your kitchen cabinet can help you go a long way in making your kitchen more attractive without even shelling out a lot of money or wasting a lot of time.