The color white is often linked to purity and cleanness. These are two aspects that are very important when it comes to food preparation. It's no surprise then that we see a lot of beautiful white kitchens nowadays.
Because white is such a bright color it can make a room appear bigger than it really is. Combine this with glass fronted cabinets and this feeling will be enhanced even more. This is a great tip for small kitchens.
One of my favorite benefits of a white kitchen is the easy customization. With some decorative pieces you can give your kitchen a new look. During the summer you can add some green pots and plants and for Halloween you can use black and orange for your decorations. The possibilities are endless!
Let's take a look at some great examples of white kitchens. Hopefully they can give you some fresh ideas for your kitchen.
Wonderful White Kitchens
I found this gorgeous white kitchen on Pinterest. Not only the kitchen cabinets and drawers are white, but also the floor and walls. Dark furniture and decorations create some contrast.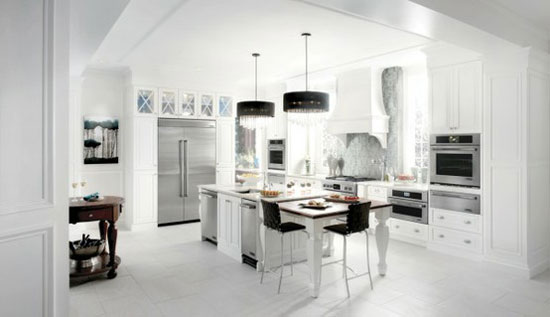 photo by lookbook.elledecor.com 
This traditional white kitchen was featured on BHG. The big eye-catchers of this kitchen are the glass-front kitchen cabinets. There's a window behind these kitchen cabinets, opening the kitchen to natural light and outdoor views.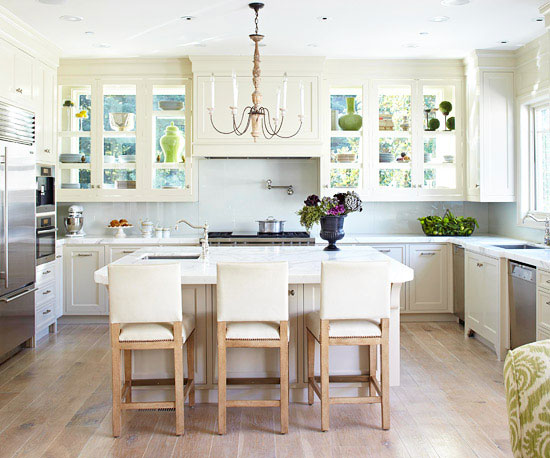 photo by bhg.com
This impressive kitchen can be found in Melbourne, Australia. It's a project by the interior designer Hecker Guthrie. The centrepiece of this modern white kitchen is the big cooking island.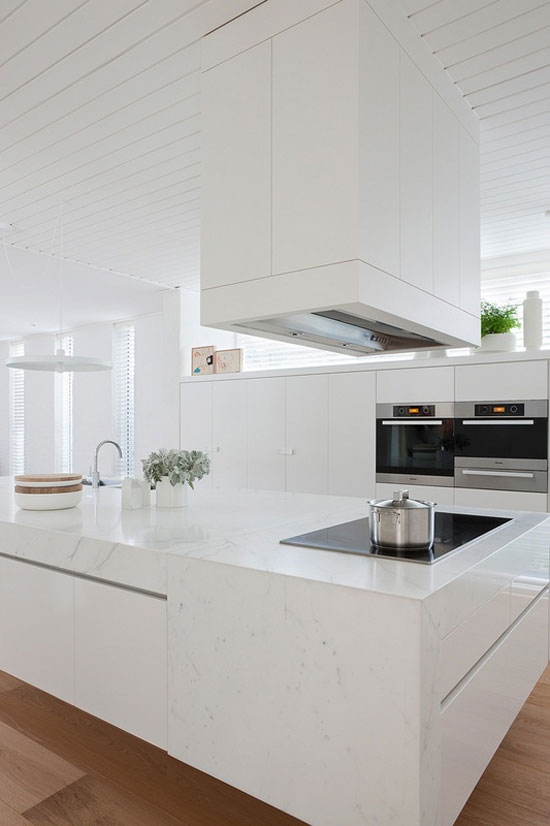 photo by 79ideas.org
This modern design can be found in the Fredensborg House. It was designed by NORM architects. This white kitchen is a dream for everyone who likes modern design with simple lines.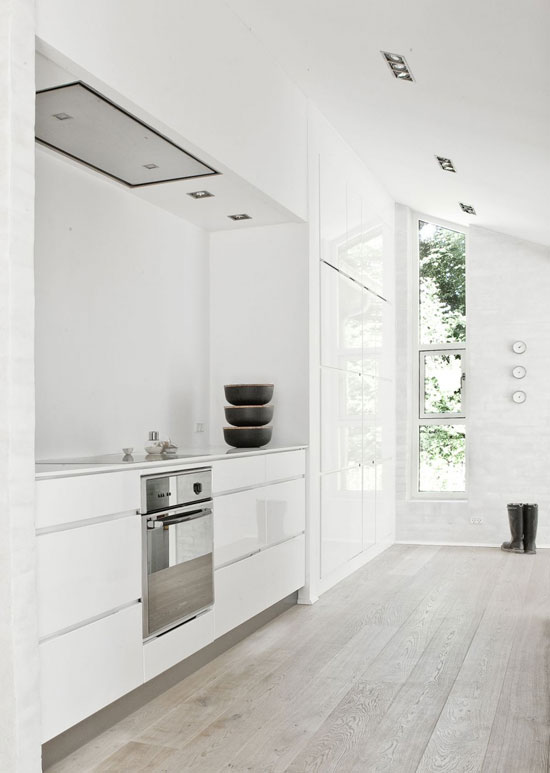 photo by Fredensborg House
Another great example of how beautiful a white traditional kitchen can be. One of the advantages of this color is that you can easily blend power outlets (check out the one on the kitchen island).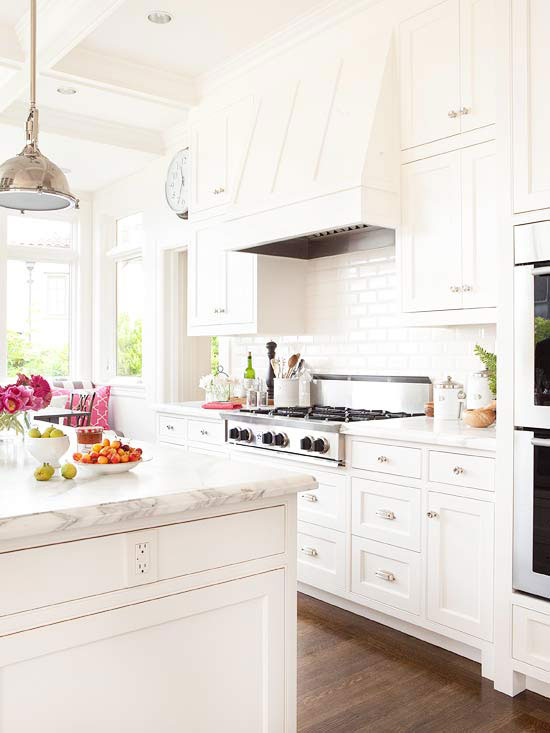 Something you don't see very often: a completely detached kitchen. Some kitchen with a cooking island still have some cabinets that are attached to a wall, but this kitchen is completely detached. I really like the contrast between the black countertop and the rest of this modern white kitchen.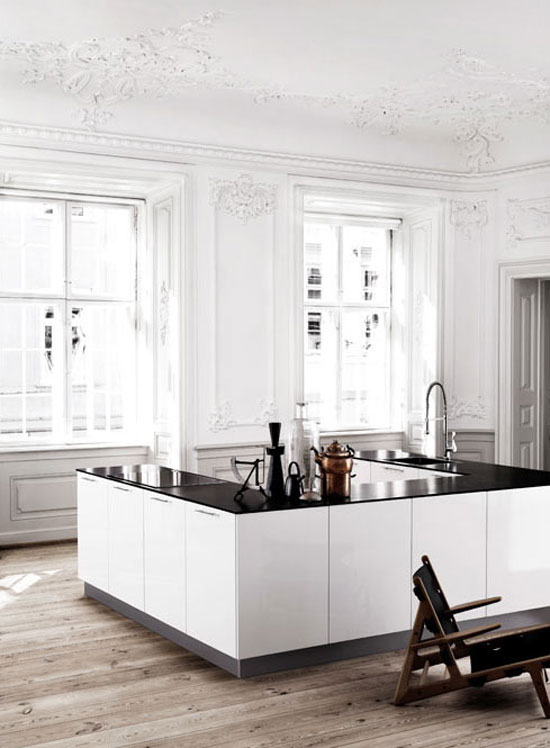 This modern kitchen was designed by Farquhar. Farquhar is a South Australian company that was established in 1978. This modern kitchen from their portfolio was our favorite.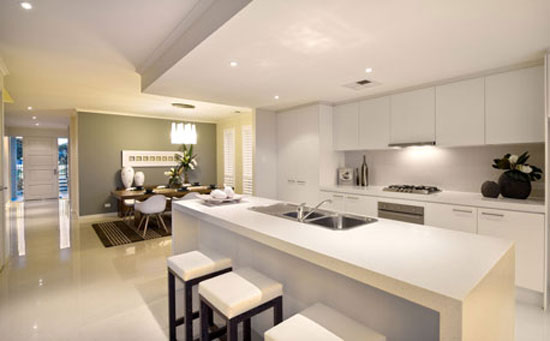 photo by farquhar.kitchen
This white beauty was designed by Glenvale kitchens (an Irish company). I really like the big kitchen island that doubles as a dining table. (found on houzz.com)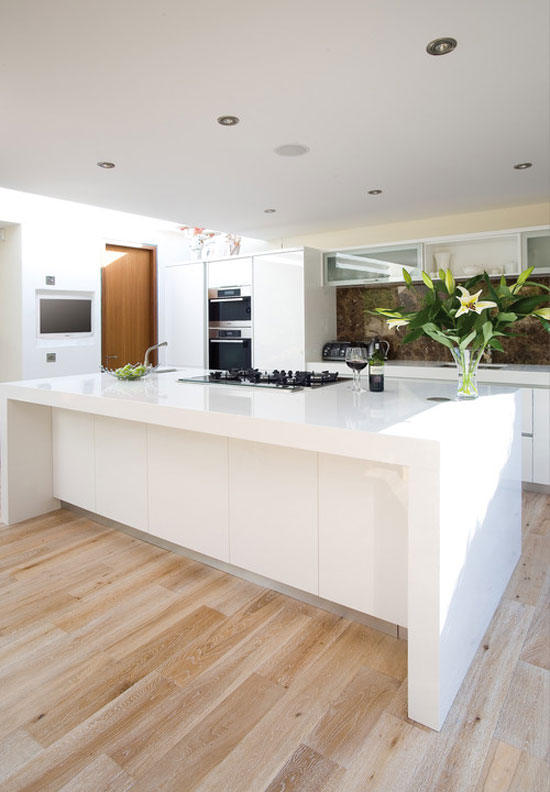 photo by houzz.com
The contrast between the dark wooden beams and the rest of this white kitchen is the real eye-catcher here. It was designed by Donald Lococo Architecture. You can find more interior designs by this company here.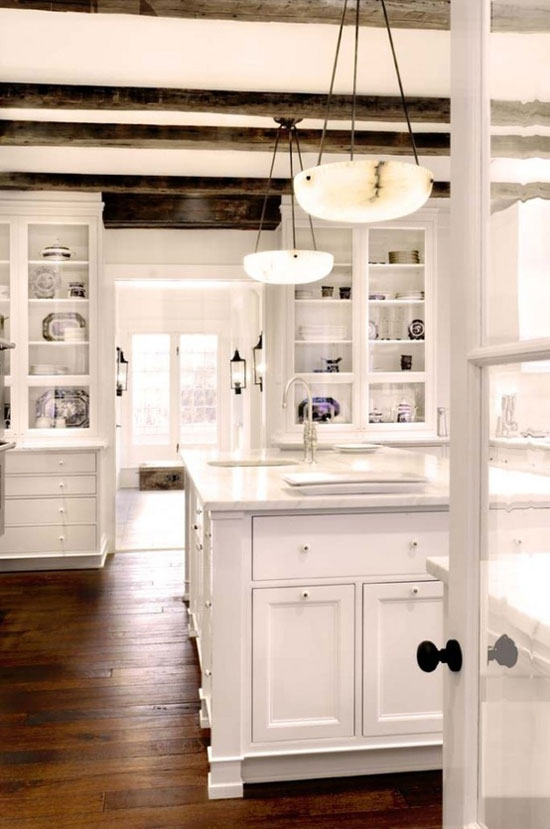 photo by donaldlococoarchitects.com
A white kitchen is very light by itself, but when you combine it with a lot of natural light, it becomes something entirely different. These huge windows really bring the outside in.
This gorgeous sink really is the centerpiece of this kitchen. It fits this classic design perfectly. Don't forget to take a look at the tiles behind the sink. Don't they look great?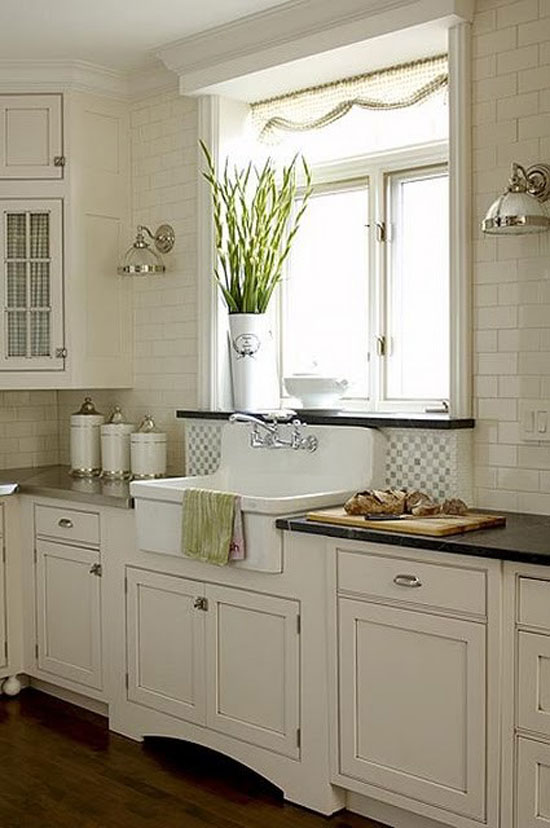 I came across this beauty while visiting decorpad. This contemporary kitchen has creamy white cabinets, honed black granite countertops , white island pendants, etc. The stainless steel appliances reflect the light nicely.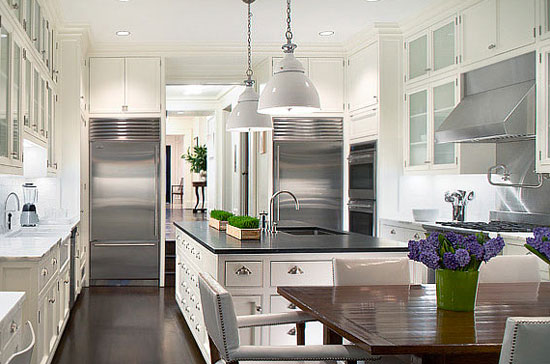 photo by decorpad.com
This kitchen has a unique setup, but it looks great. Check out the beautiful white countertops and the tiles behind the stove.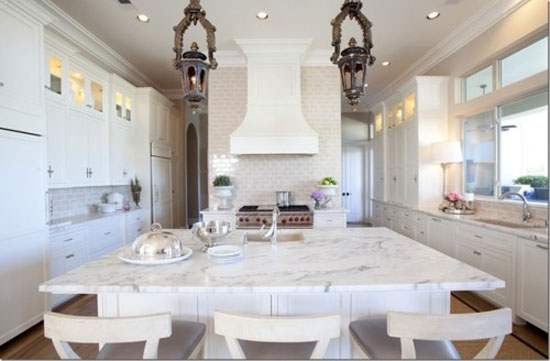 This is a great example on how to create contrast with decorative pieces. The blue tiles really pull your eyes toward the far end of the kitchen, making it look bigger.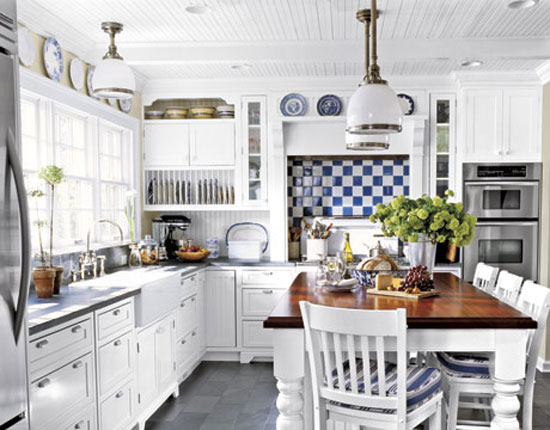 We end this article with this modern white kitchen by Elad Gonen and Zeev Beech. It has simple, straight lines and a large cooking island that is connected to a dining table. Found on houzz.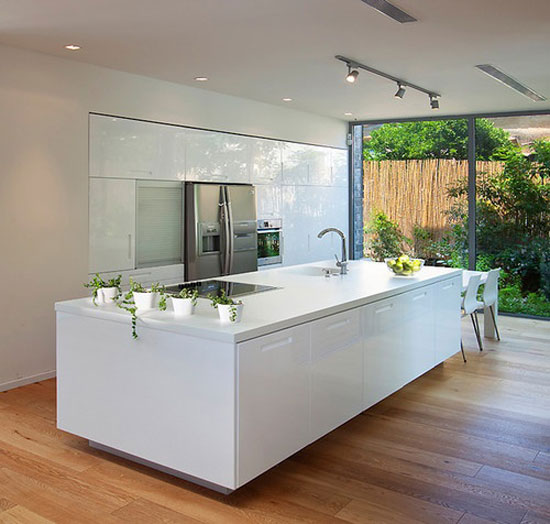 photo by houzz.com
Do you like a white kitchens? Which one is your favorite? Post a comment and share it with the rest of us.