There's nothing like the vintage look and feel of a beautiful farmhouse kitchen. They convey a sense of authenticity and serenity that we almost never find in modern designs. But farmhouse kitchens don't always have to be old and cramped. There are plenty of modern iterations that fit perfectly in today's homes. To give you some ideas about all the possibilities, I've collected some stunning farmhouse kitchens.
Farmhouse kitchen examples
The absolute eye-catcher of this farmhouse kitchen is the huge wooden kitchen island. The wood that was used to create this island has a beautiful color and subtle texture. But perhaps my favorite element of this kitchen are the big metal pendant lamps hanging above the kitchen island.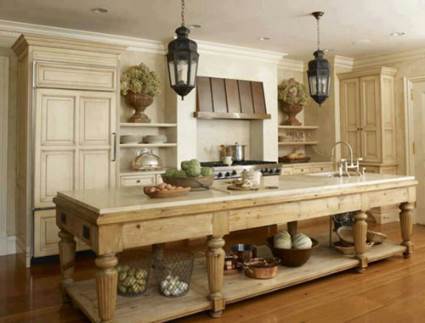 What's a kitchen without a gorgeous sink? Absolutely nothing! This traditional sink fits perfectly next to the olive-green cabinets and wooden countertop. The shelves display a beautiful collection of jars, plates, bowls, cups and more. This really is a very nice farmhouse kitchen.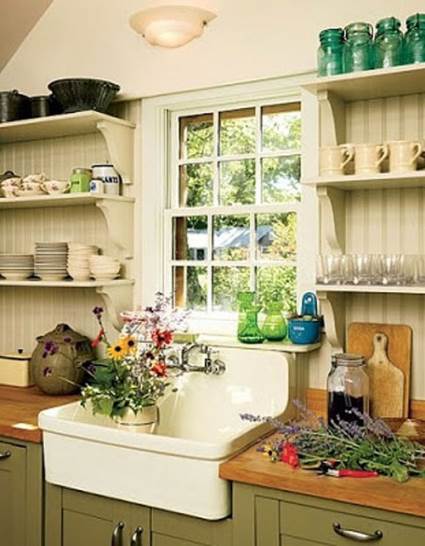 You can't have a kitchen without a place to eat. That's why I've added this amazing wooden table to this list. I love the tiny imperfections of the table and the color-matching wooden beams in the ceiling. Once again there's a big pendant lamp to provide this room with plenty of light.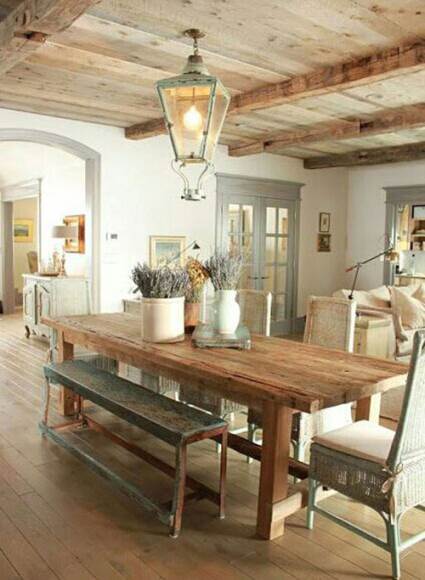 This is a more modern farmhouse kitchen. It has simple white cabinets and drawers that contrast nicely with the stainless steel appliances. The traditional white sink and the various utensils give this kitchen a very homely feel.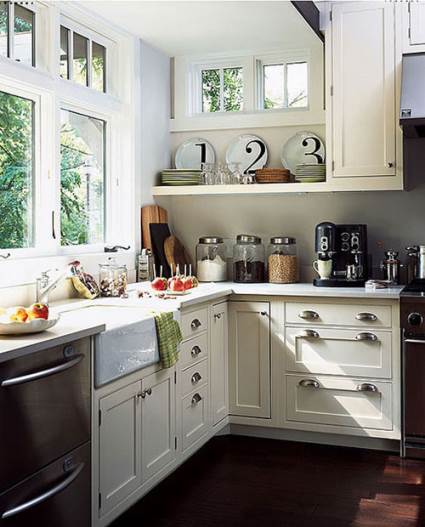 If you prefer the warmth of dark wood, you're going to love this kitchen. Don't forget to take a look at the big copper sink and the matching faucet. To add a bit of contrast, the cabinets below the sink were painted black.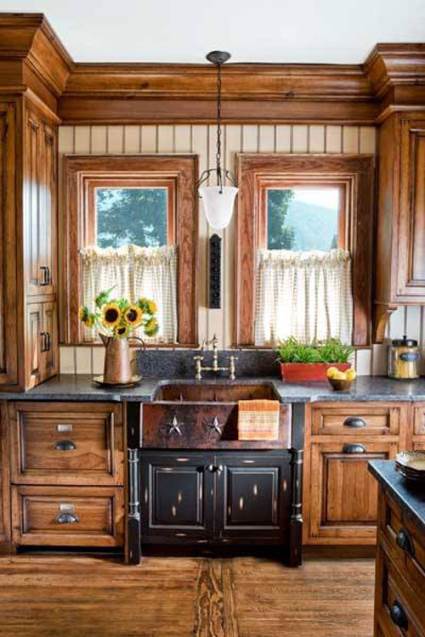 I'm sure a lot of you will like this rustic farmhouse kitchen. What I really like about this one, is the use of various materials. We can see various bare stone walls, big wooden beams in the ceiling and metal appliances. All these different materials make this kitchen so interesting.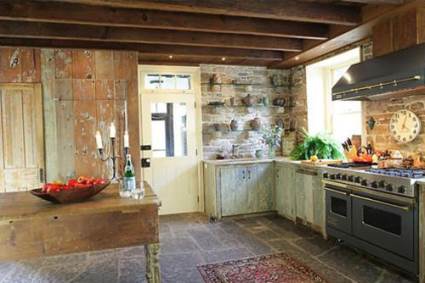 Another beautiful kitchen table and a big white cabinet. Thanks to the glass fronts, you can display all your cutlery and utensils. The vintage pendant lamps and floor tiles  provide the finishing touch for this dining area.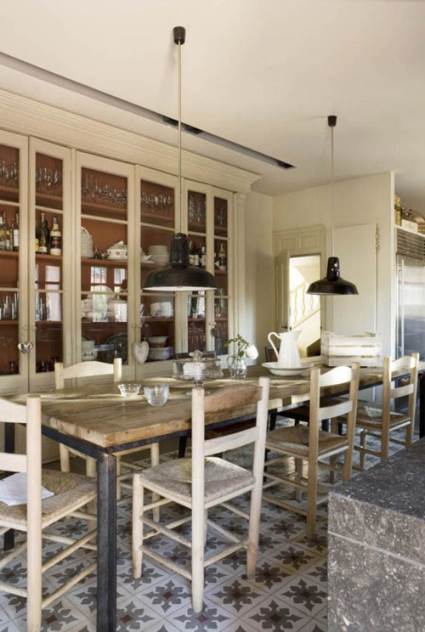 Who says that a farmhouse kitchen can't have a bit of color? The photo below says otherwise. You'll find various green-colored elements such as the striped ceiling, kitchen island, thee kettle and decorative plates. This unique color scheme makes this kitchen look very fresh and inviting.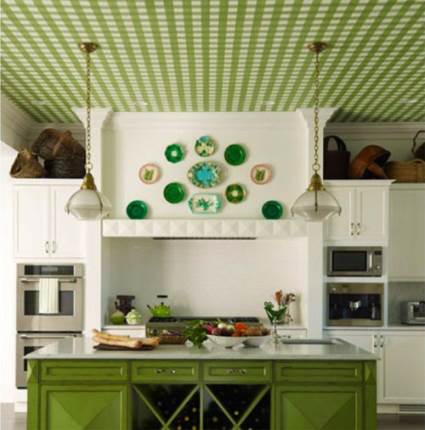 I selected this photograph because of the vintage stove. They don't make 'em like these anymore. Too bad, because I really like the design and it fits this farmhouse kitchen perfectly.
This classy farmhouse kitchen has a basic green/grey color scheme. The rest of the kitchen is also kept very simple – it almost has a modern minimalism look. If there's such thing as traditional minimalism, this is it.
This French farmhouse kitchen looks very spacious thanks to the white color scheme and big windows. Simple and stylish, just the way it should be.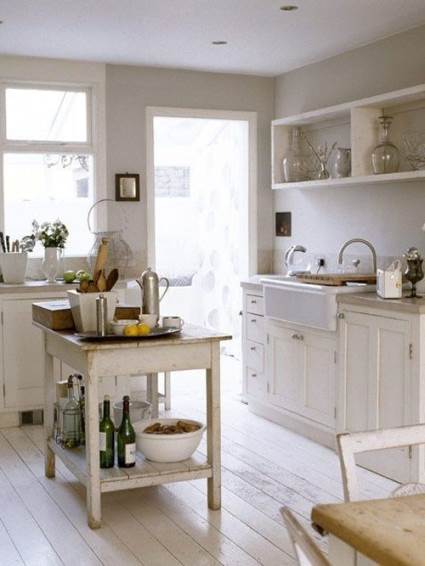 This stunning kitchen can be found in a rustic Italian villa. If I had to describe this rustic kitchen in two word it would be 'big & beautiful'. The unique cabinet doors really stand out in this design. And let's not forget the stone ceiling!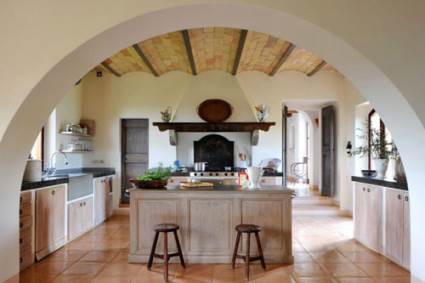 This is perhaps one of the more colorful kitchens in this list. Black cabinets, grey stone floors, white ceilings, brown bricks… can all be found in this traditional farmhouse kitchen.