Stir-fry is in everyone's back-up recipe books. It is so simple, uses up vegetables sitting in your fridge and is totally personal to each individual.
Stir-fry, especially the everything but the kitchen sink stir-fry, is in everyone's back-up recipe books. It is so simple, uses up vegetables sitting in your fridge & is totally personal to each individual. You might love spinach so much but ran out of creative ways to use it all up. What about that bag of frozen peas that has been sitting in the freezer for the past six months? Use it up!
There are four categories when creating your kitchen sink stir-fry that you must consider: vegetables, spices and liquids, protein and grain.
Vegetables:

onion (almost a must)
garlic
celery
carrots
daikon
broccoli
greens (spinach, kale, arugula)
asparagus
any frozen variety

Spices & liquids:

garlic
basil
ginger
Chinese five spice
curry
dill
sesame oil
shoyu/tamari (soy sauce)
red pepper flakes
salt
pepper
apple cider vinegar
a touch of sugar

*This list is pretty much endless!*

Protein

tofu
seitan
fake meats
beans — my favorite is chickpeas
tempeh

Grains

rice
pasta
wheat berries
quinoa
millet
barley
You also can make the stir-fry without grains and place it on a tortilla or on lettuce strips, making it more like a wrap.
Here is the general way that I create my stir-fry masterpiece:
I start with some oil in a skillet and add an onion.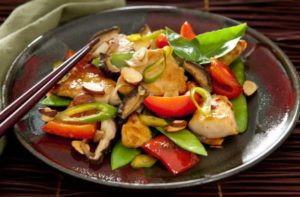 After the onion starts to get clear and glisten, I add all my vegetables. I then sometimes add about 1/4 cup water, so carrots and other hard vegetables could boil. I usually let this cook for about 10-15 minutes.
I then usually add spices, but this would be a good time to add protein and/or grain. If you want to not saturate your grain in the spices and liquids, wait until almost 5 minutes from being done.
If you add a protein that needs some serious cook time, such as tofu or tempeh, I would let it cook an additional 10 minutes, being careful the food doesn't stick/burn. If it is something that just needs to be heated through, it should only take 5 minutes or so.
And like I said, add the grains last. If you want your grains and protein to hold the full taste of the spice, add the spice at the very last instead, but make sure to cook for a bit, to get them to release their flavor.
Presto! And now it's time to eat some stir-fry!
head>

Image sources

https://goodtoknow.secure.media.ipcdigital.co.uk/111/00000c216/2702_orh412w625/Chicken-stir-fry.jpg
http://2rt9loawzcmbvlze40mhj9n0.wpengine.netdna-cdn.com/wp-content/uploads/2015/05/orange-ginger-chicken-stir-fry-balsamic-vinegar.jpg