About teapot by NORM
Less is more! That's the motto the designers at NORM Architects used to create this awesome teapot. Instead of using funky colors and unnecessary decorations, they stripped this teapot to its bare essentials. Say hello to the NORM teapot.
NORM is a design studio with a focus on architecture, commercial interiors, and industrial design. The Scandinavian company was founded in 2008 by architects Kasper Ronn and Jonas Bjerre-Poulsen. Their primary endeavour is to design useful products with an appealing design. Personally, I think they pulled it off with this beautiful teapot.
The NORM Tea Pot
This beautiful design combines a teapot and a tea infuser. You can put loose tea leaves in the infuser and lower them into the water. If you think the tea is strong enough you can pull it up via the plastic band.
The Norm teapot is made of clear glass, which allows you to see the brewing process. The infuser itself is made of stainless steel, making it very durable.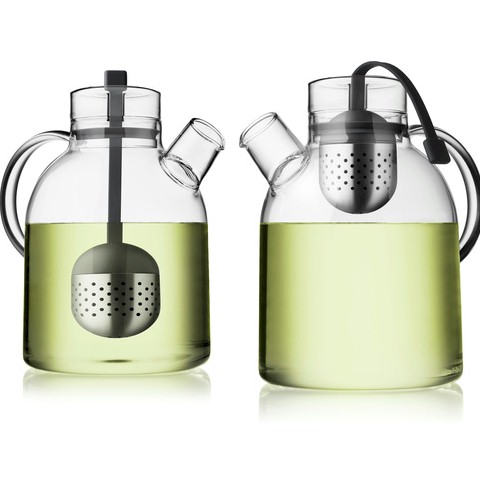 You can get this teapot for 60.50 euro at Questtodesign.
One of our readers sent us a review:
I received this pot within the mail and I am enjoying my initial cup of tea from it. The egg-infuser is clever and engaging however to urge the infuser apart took somewhat of your time to work out. It's a twist-and-lock variety of fastener, however it's on terribly tightly and therefore the form and size of the egg makes it awkward to require apart. Still, once you work it out it stops being a drag.
The main factor I noticed  concerning this pot is however light-weight the glass it. It feels delicate… very delicate. I am forward it's salt glass since one thing this thin would ought to be, otherwise it would crack from the heat of the hot water. Still I am going to come and allow you to apprehend ought to this factor crack or shatter in the slightest degree. It's a pretty minimalist style thus victimization it is terribly simple and intuitive. Not to mention lovely to show and use.
If you get pleasure from tea to the purpose wherever you favor to possess multiple cups AND have an eye fixed for contemporary style, than I provide this the go-a head while not reservation. this is often positively associate degree enthusiasts pot and can positively be my default once enjoying or sharing giant quantities of tea.
Is it a good idea to use a Dishwasher Instead of Washing it by Hand? Does dishwasher or hand wash?