Now that Thanksgiving has come and gone, it's almost time for another big holiday: Christmas. It's a time where a lot of people decorate their home, not only on the outside but also on the inside. That's why we decided to help you with your Christmas decorations with these kitchen decorating ideas.
Christmas Bows on Chairs
This simple decorating idea comes from Barefoot Floor. They use a red bow, some pine cones and some leaves to bring the Christmas feeling to the diner table.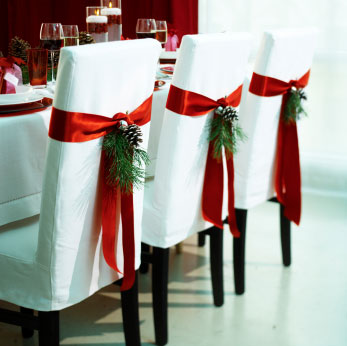 Ceiling decoration
Here's a cool decoration piece you can make yourself; take some branches and remove all the leaves. Bind them together with a piece of string. Finish this piece by adding some Christmas balls. Simple colors work best, but you can use any color you want.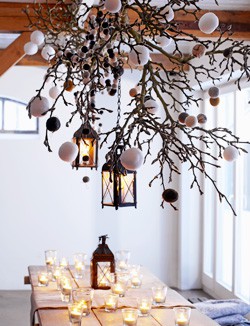 Colorful Kitchen Cabinets
This is a simple decorating tip from Countryliving that instantly transforms your entire kitchen. Get some wrapping paper, preferably with a nice texture, and stick them on your kitchen cupboards. You can use double-sided tape for this.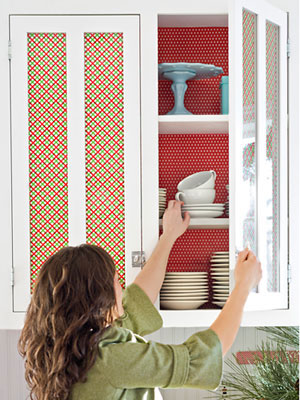 Hand-made Christmas Tree
A lot of kids want to help with the Christmas decoration. It's always nice to be able to do some things together. That's why I like this decorating idea. Heather from The Other White House made these hand-made Christmas tree with her kids. All she needed was a canvas and some finger paint. Looks great, doesn't it?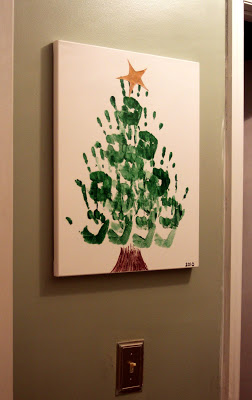 Pine Cone Garland
Simple things usually look the best. This DIY pine cone garland is the prefect example. I found this great DIY project on the website of Kathleen, called Twig & Thistle. All you need is some pine cones, a ribbon, screw hooks, hole punch and a scissor. The great thing about this decorating idea is that you can use it not only in your kitchen, but all over the house!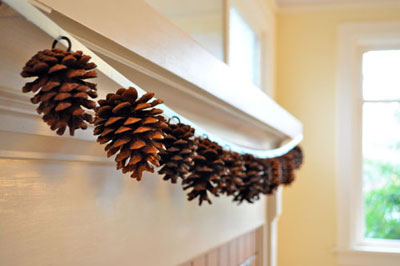 Snowy Wine Bottles
When we think of Christmas and New Year, we usually think about snow. There's no guarantee that it will be a white Christmas this year, but with this decorating piece it doesn't matter. Tracie from Cleverly Inspired brings the snow inside in the form of snowy wine bottles. She took a couple of empty wine bottles, sprayed some primer on them and rolled them in Epsom salt. The result is a wine bottle that looks like it's cover in snow.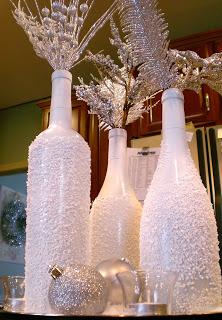 Transparent Christmas balls
If you really want to personalize your Christmas decorations, this is the perfect tip for you. Get some transparent Christmas balls and put pictures of your friends and family inside of them. A great idea of Shelley from The House of Smiths.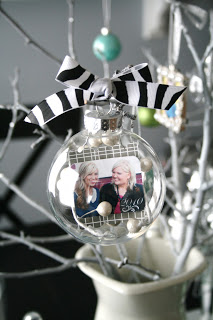 What about you?
These were our favorite Christmas decorating ideas. What's your favorite? Do you have others ideas that you'd like to share? Please post a comment and tell us.