In our last article we took a look at some kitchens with unusual color schemes. Although they used colors we don't normally see in a kitchen, they still looked good. Why is this? Because they use a balanced color scheme.
Every kitchen has multiple colors. A kitchen that only uses a single color would look bland and boring. Adequate contrast is needed to make it look good.
So where can you get kitchen color ideas?
I've found the perfect website for some color inspiration: Kuler. Kuler is a web application from Adobe where you can create, collect and share beautiful color schemes. The website is frequently used by graphic designers, but we could also use this source of inspiration for a kitchen.
The great thing about Kuler is that it's free. Well, the web application at least, if you want to use Kuler on an Android tablet it will cost you $9.99 for the app.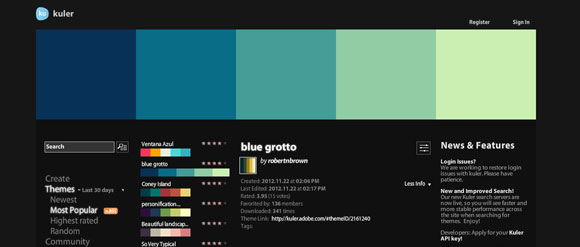 If you're looking for kitchen color ideas, you can select the most popular themes in the left sidebar. Click on a theme to see more information. If you want to see the color codes, simply click on the icon on the left side of the name. Here you can even adjust the color theme to suit your taste.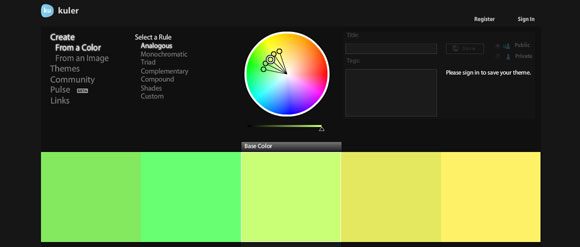 But one of the most useful features of Kuler is that you can create a color scheme from scratch. Click on 'create' and choose the colors you like. Alternatively you could upload a photo and use the colors from the image.