I recently bought an iPad and it's been very helpful, especially if I want to check a website or Facebook. Instead of powering up my laptop I use my iPad; it's much faster and can easily carry it around the house.
Recently I also started to follow some recipes from my iPad. There are plenty of cooking apps out there that are worth a shot. So if you have an iPad and you're looking for some cooking inspiration, try an app (the Telegraph wrote an article about it).
The only problem is using your iPad in the kitchen. I try to keep it in a safe place where it doesn't get dirty, but that's easier said than done. I tried using some books as a kickstand, but it took up too much space (I have a fairly small kitchen). So it was time to look for a solution!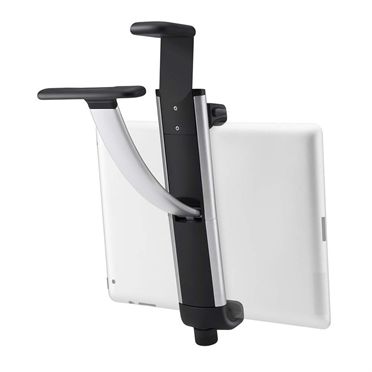 Thanks to Google I came across this iPad cabinet mount from Belkin. With this mount you can suspend your iPad from a kitchen cabinet or shelf. It help keep your tablet in view and it doesn't take up any space.
The great thing about his mount is that you don't need any tools or equipment to install it. Simply attach the iPad mount to the cabinet or shel using the adjustable clamp. Thanks to this clamp it can be easily re-positioned or removed.
This handy piece of kitchen equipment works with the original iPad, iPad 2 and iPad 3. My order should arrive somewhere next week, so I'll let you know if it lives up to expectations.