TVA Architects is an award-winning design firm from Portland, Oregon. The company designed this beautiful Frankel Residence in 2006. We're mostly interested in the kitchen.
This home can be found between the Three Sisters Mountains and Mount Jefferson. To enjoy these views, the architects placed big windows in the kitchen and dining area. To emphasize this connection with the surroundings of the house even further, a lot of wood and other natural materials were used.
A view from the living room to the kitchen. Check out those big windows, high ceilings and beautiful lamps.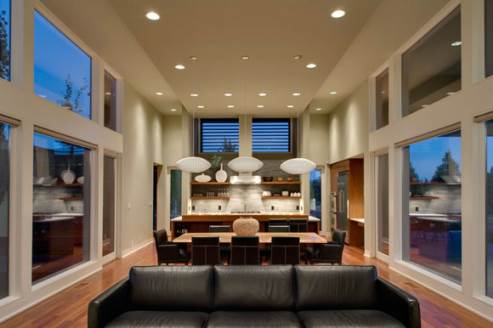 This is a better view of the kitchen. The stone wall and wooden cabinets and shelves make this a real eye-catcher.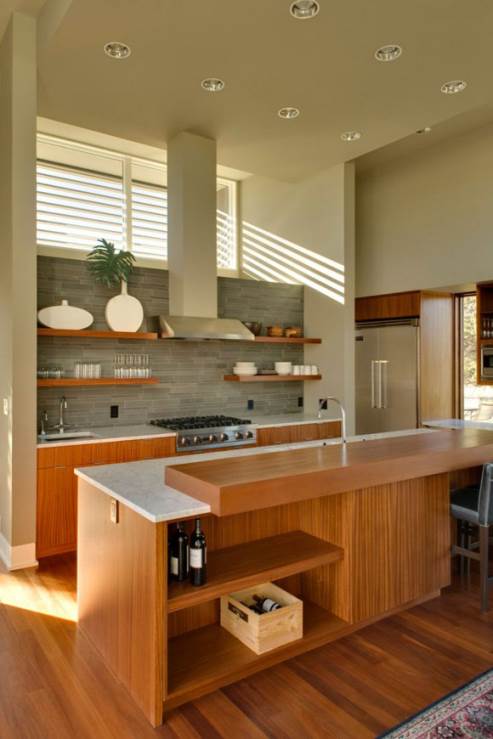 The beautiful wooden dining table of the Frankel Residence.

Since the founding of the firm in 1984, Design Principal Robert L. Thompson, FAIA has created a studio that is fueled by a passion for built form in the modernist style. From its earliest days, TVA set out to make its mark on the world of design while creating lasting relationships with excellent clients. Museums, residences, recreational facilities, theater complexes, interpretive centers — each commission, large or small, was a welcome opportunity to deliver exceptional service while expressing the unique vision and creative talents of the developing firm. With a growing reputation for design excellence, TVA evolved into a leading design firm in the Pacific Northwest, garnering major architectural design commissions throughout the United States and Asia.