I'd like to share some kitchen design inspiration with you before the start of the weekend. We've already featured several kitchen design companies and today we take a look at Dream Design. In this article you'll learn more about the company and take a look at some of their creations.
About Dream Design
Dream Design was founded in 1984 by Andrew Rizza. His dream was to offer the very best in interior design. That's why Dream Design is more than just kitchens; they're also speciliazed in bathrooms, bedrooms, living rooms and offices. They can help you with a complete home refurbishment project or give you advice on specific interior elements.
Dream Design can be found in Dorset / Hampshire on the edge of the New Forest. For more information visit their website.
Dream Design Kitchens
We start this list with an amazing white kitchen. In combination with stainless steel appliances, white is always a great choice. The dark wooden floors give this room the perfect amount of contrast. Finally, the glass cabinets on the right side are a great eye-catcher thanks to the aluminium trim.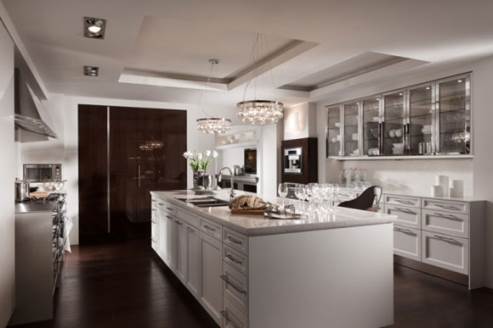 Talking about glass cabinets, what do you think of this glass pantry? It almost looks like a shop window where you can display your favorite plates, glasses, cups and bowls.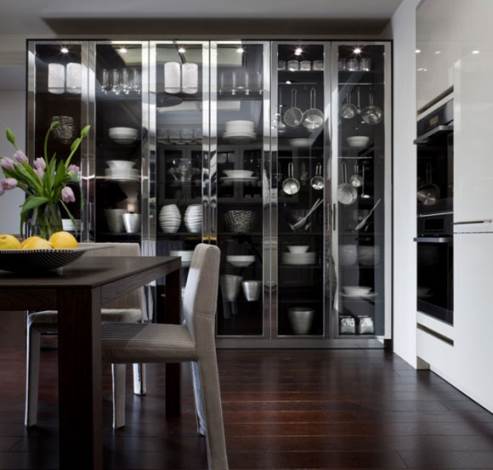 The beauty of custom made kitchens is that they fit the rest of the room perfectly. This was a bit tricky in this Mudeford Riverside house. Because the dining area is shaped like a sail, a custom made kitchen had to be designed to maximize the use of space. The result is this beautiful curved kitchen, made from Macasser ebony.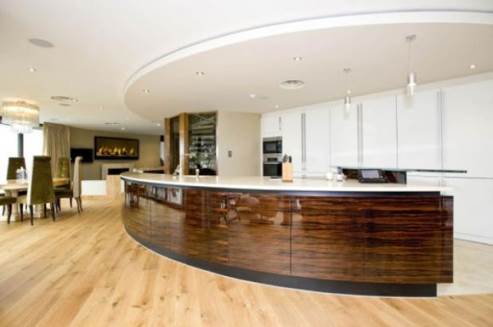 The reason why I had to include this kitchen is that gorgeous green color. Unconventional, but it looks great!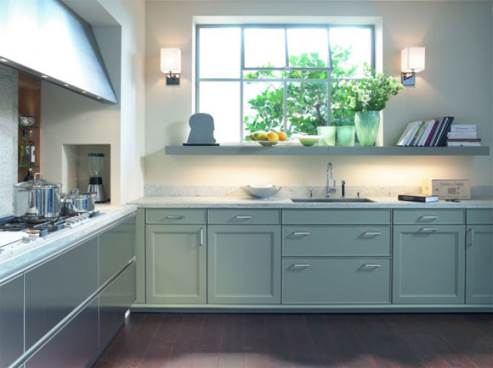 All the tips we posted in the article 'how to make a small kitchen appear bigger' can be thrown overboard for this example. Whatever you do, you can't make this room look cramped, thanks to the high ceilings. I think we're all a bit jealous of this beautiful kitchen.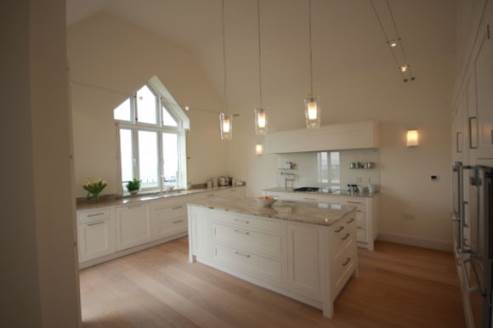 We end this list with a beautiful contemporary kitchen (don't worry, you can find more examples on the Dream Design website). Once again the glass cabinets are a great eye-catcher. Don't forget that wooden closet on the right side – that one looks great too.