Some elements are essential in a kitchen, for example a stove, fridge and microwave. Another piece of equipment every kitchen needs is a good faucet. A good faucet has to be durable and easy to use. That's why I like pull down kitchen faucets so much. Just grab the head and point them wherever you want. They also remind me of my student job at a local restaurant (I had a great time there).
Pull down kitchen faucets can be real eye-catchers, especially the bigger models. Another advantage is that they can be used in every type of kitchen; traditional or modern.
Below you'll find 5 examples of beautiful pull down kitchen faucets. If you have found a model that should be added to this list, please post a comment.
Dornbracht Pull Down Kitchen Faucet
Dornbracht is a German manufacturer of premium fittings. In their collection we find this beautiful Maro pull down kitchen faucet. It has a nice and simple design that will fit in a traditional and modern kitchen. It's available in a chrome and matte platinum finish.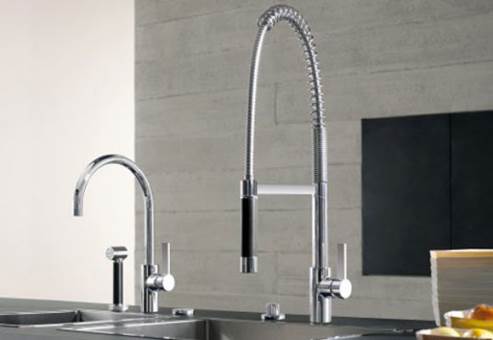 Paini Hybrid Faucet
This modern kitchen faucet from Paini has a unique look that looks perfect in a contemporary kitchen. It has a flexible flattened spout that extends as required. There's also a LED-illuminated dial that indicates the water temperature; it turns red when hot and blue when cold. It comes in multi-colored variants of gray, white and black.
Delta Pilar Faucet
This sleek and easy-to-use stainless kitchen faucet of Delta has Touch Technology, which means that the faucet responds to gentle pressure. You can turn it on and off with a simple touch, even when your hands are dirty. The Delta Pilar pull down faucet is available in stainless steel, chrome or Venetian bronze.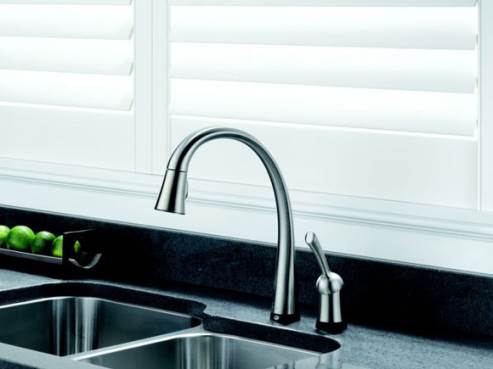 Brizo Talo Faucet
Brizo has several beautiful kitchen faucets. We like this Talo pull down faucet because of its classic look. It has SmartTouch technology and comes with a matching soap dispenser. This fitting is available in various materials.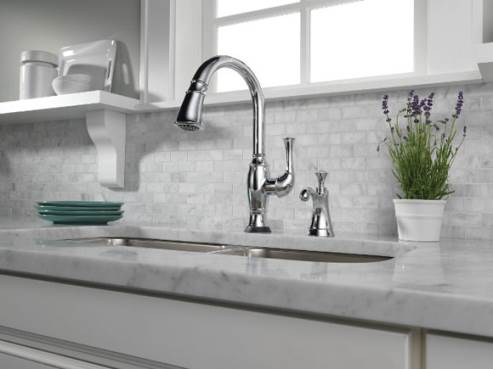 LightInTheBox LED Faucet
This modern pull down kitchen faucet is all about usability. It has a color changing LED light and temperature sensor that show you how warm or cold the water really is. Blue is for cold water, green for tepid water and red for temperatures of over 50°C. This is really handy if you don't want to burn your fingers.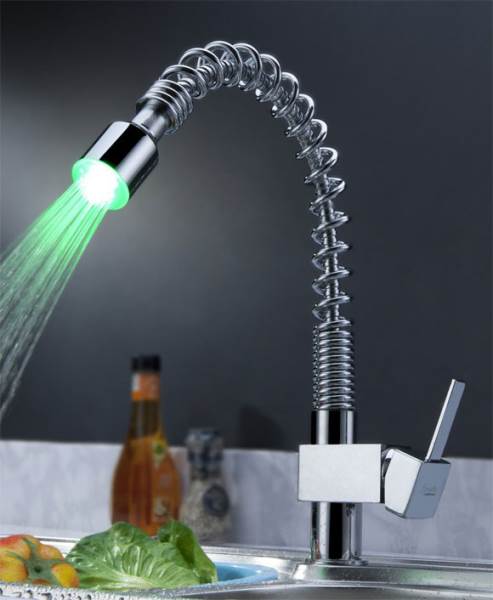 [divider style="solid"/]
What's your favorite?
Articles such as these are usually a bit subjective. I selected these pull down kitchen faucets because I like their design. That doesn't mean you have to agree with me. So please post a comment and share your favorite model.
When it comes to water in kitchen don't forget about water dispensers, here we compared top 5 countertop water dispensers.