Vintage look and feel of enamel ceramic canister sets
If there's one thing you can't have enough of, it's storage space. There are plenty of ingredients, utensils and other kitchen equipment that you need during the week. An organised storage system makes cooking so much easier.
Some people prefer glass jars, but I prefer the vintage look and feel of enamel canisters. These lovely are so simple and handy. What's even better is that they are easy to clean.
There are plenty of places to buy enamel canisters, so I've made a quick selection:
Striped Enamel Canisters by West Elm
These small, white canisters have a lovely accenting stripe that sets them apart from the rest. They come in three different colors: orange, gray and yellow.
White ceramic canisters
Another lovely canister set from West Elm. This collection has a more traditional look, thanks to the simple black and white color scheme. They are made from powder-coated stainless steel and come in three different sizes.
These white canisters also cost $20.90.
Enamelware Storage Canister Set
This beautiful set of 4 canisters is dishwasher, oven, and freezer safe. They are made from heavy duty steel coated with porcelain enamel, ensuring a high durability. So you can use these lovely enamel canisters every day!
Available on Amazon.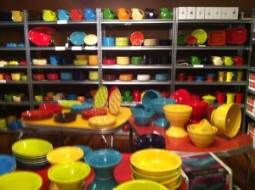 Enamel Bread Bin
There's even a stylish enamel bread bin! This stylish storage keeps your bread fresher longer. You can buy this vintage bread bin on this website.
Pink Canisters
If you like a more traditional canister, you should take a look at these pink enamel canisters. They have a glossy, French country enamel-wear finish and are ideal for storing sugar, flour, cookies, and treats.
This three-piece set can be yours for $31.95.