There is no kitchen or home bar which can survive without some comfortable bar stools. High stools could be perfect desicion for kitchen or dining room. Today we would like to pay your attention on retro bar stools, as they offer not only seating, and functionality, but as well style to your place.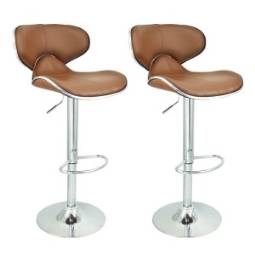 If you have an open living, dining and kitchen area, with bar centrally located, retro bar stools are what you need. They can be used at a bar-height table in a casual dining room or dining nook to become a crucial piece of furniture. When you are choosing bar stools for your home, you'll want to make sure you're satisfied with your decision. You will be able to have plenty of seating options. Retro kitchen stools will not only give you additional seatings for your family and guests but could also enhance your home's decor. Ensure that you choose a color that compliments the color of your walls and decor.
Stools may differ in the way they look and actually in their functionallity. Some of retro stools have the built-in footrest and contoured backrest which makes it perfect for addition of a design flair in your kitchen or bar. We will not even mention in how many different styles, shapes, sizes, colors they are available. As well there is possibility to get one with a high back and the arms around the stool which can support your back perfectly. Most of them have that adjustable height piston. Some stools has special feature a "Gas lift pole and lever" that allows you to adjustment stool for the perfect height with 360 degree swivel for extra comfort. They have a very cute and simple design that seemed so perfect. Very easy to assemble and setup just in 2 minutes! Chic looking with modern design.
via: ebay
Maintaining your bar stool set is good idea. Time after time check it for loose bolts and connections to avoid the collapse of it. The durability will depend on the material and style that you have purchased. Most of them have a wide base that makes them sturdy enough for a four year old to climb. You can also find the ones with seat cushions as they become bottom numbing when it is bare just for more comfortable seating. Just like any other furniture, remember to keep them clean. If it is wooden, you can always clean it up with a dry rag. If it is metal, use a dump cleaning essentials.


It is important to use what you love when creating balance in your room. You can now accessories your kitchen or home space, with such retro stools that fits your space for a more curative look and fall in love with your kitchen once again!
Retro bar stools are natural additions to any home and have many day-to-day uses and extremely convenient for sitting extra guests. You can get some wooden bar stools or high-gloss metal bar stools in any color imaginable. Stools are made not only to be comfortable, but as well to underline the style of your kitchen, with such attractive chairs your kitchen space will become the place where everyone congregates.
via: ebay