What modern kitchen designs are all about
Just like about almost everything else nowadays, people like to go for achieving the modern feel even while designing their home's kitchen. This leads us to modern kitchen designs, which seems to have become incredibly popular nowadays. And maybe they have a reason for their rapidly growing popularity, as they offer quite a few innovative advantages which most of the other traditional kitchens designs seemingly don't.

However, one needs to be absolutely clear about what exactly they need to do, as well as get the basics right in order to go for a modern kitchen. After all, nowadays we can come across quite a few cases where kitchens would look rather weird after their owners would try to make them look modern. This can probably happen with anyone, as all it needs to go wrong are a few bad decisions. Hence, implementing one of the modern kitchen designs probably isn't as straightforward and simple as it seems.
However, they may not be tremendously difficult either, if you do enough research. We're listing some of the important and even basic things you need to keep in mind while trying to design a kitchen the modern way. Some of these ways may seem rather basic or obvious, but are still worth mentioning as they go a long way in ensuring you don't end up with something you never wanted or hoped for.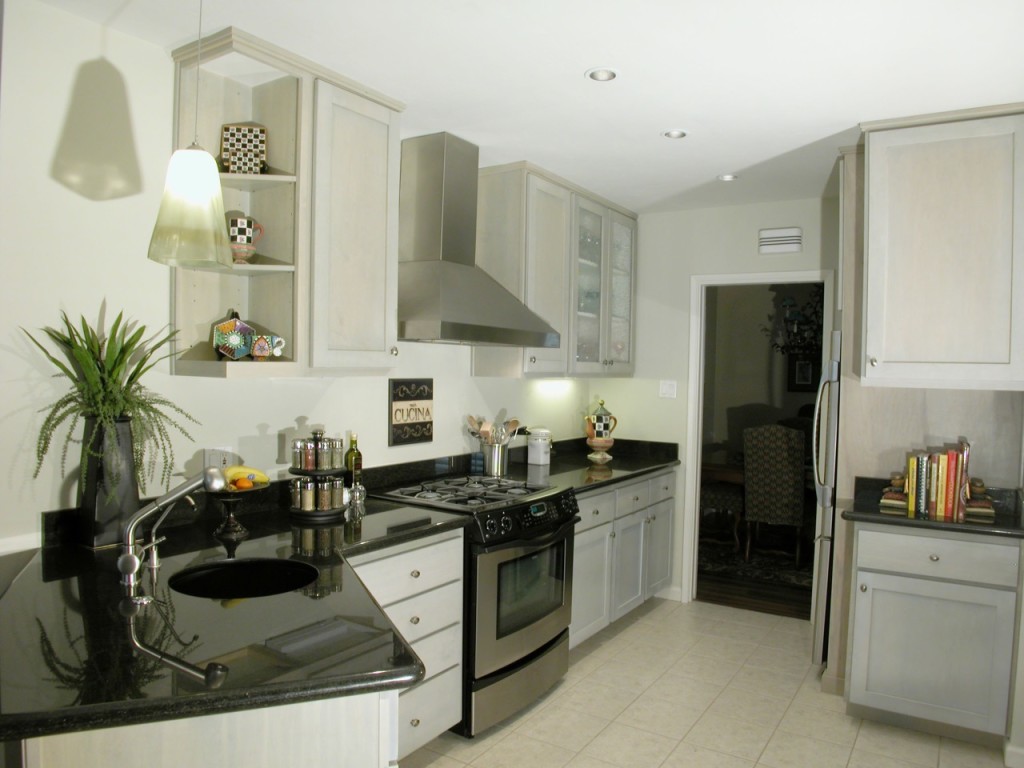 Deciding on the layout of your kitchen
The layout of your kitchen will probably be one of the most important things while designing a modern kitchen. It's also obviously the very first thing you need to decision on.
The general layout idea while designing a modern kitchen always tends to be focusing on the spaciousness of the place. Modern kitchens are characterized by a rather spacious and open feel, and no place that looks crowded or messed up would ever be called a modern kitchen.
However, regardless of how simple it sounds to ensure more spaciousness in your kitchen, it can indeed be an incredibly challenging task. After all, you still obviously need to have place for all your cooking appliances, furniture, as well as a lot of other things including storage stuff. This can be difficult to achieve especially for those who're rather low on space or need to store a lot of things.
Ensuring more spaciousness
So how would you go about ensuring a spacious cooking environment while still having all your important stuff? Well, the very first thing to do would probably to write down the basic things you'd need to get started. You don't need to include anything which you'd need occasionally, but only the things you'd rather need daily. This may usually mean all your basic cooking stuff, while giving a skip to the rest.
While doing this, you can even try imagining how you'd work in a modern environment with all the things you've written down. Now, after you done filling your kitchen with all those things, see if you've any space left. Most probably you'd, as you've just filled your kitchen with the most important things while skipping the rest. So, you can now consider moving in the other things as well, one by one.
However, if there comes a point where you think the place is looking overcrowded or messy, you may have to make a few sacrifices by giving up the things you would need the least. Another thing to keep in mind while trying to ensure more spaciousness is to replace bulkier and larger things with their smaller and lighter alternatives, given that they aren't too expensive and you really need those things.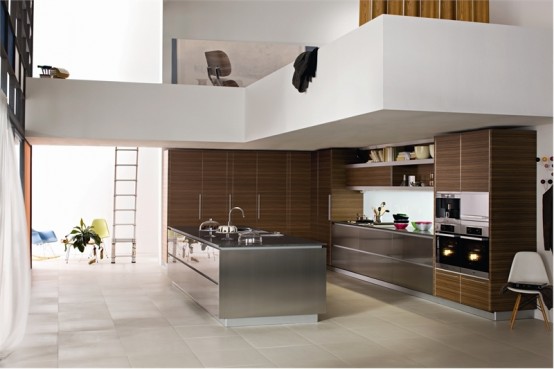 How the environment needs to be?
Well, just because you need to have open space while designing a modern kitchen, doesn't mean that you'll have nothing on show. You don't exactly need to have an empty looking kitchen while trying to give it the modern feel. The idea is to rather create an environment which is not only spacious but also practical to work in. You can actually include almost everything you want to, and your kitchen may still look modern. However, anything looking cluttered or messy would by no means be called modern. Hence, the idea isn't to restrict yourself to having a completely open space, but just to not cross that line after which the place will start looking messy and make one feel rather uncomfortable.
Ideas for a modern kitchen
Stainless steel appliances may be a great option while designing almost any type of modern kitchen. Keeping everything organized and ensuring that everything is properly arranged too goes a long way in achieving that modern feel.
If you've a larger space in store though, you can consider going for those metallic surfaces coming in a rather bright gloss color. This can be quite a creative thing to do as well, as it doesn't interferes with the modern look of your kitchen while providing the much needed warmth factor.