Traditions are changing, and now you can have fully functioning kitchen in 10 minutes and without gas! Additionally without breaking your budget. Today we talk about portable electric stoves. To compare: traditional gas stove is hard to clean and install. It is also expensive if you're going to compare it to an electric stove. Let's have a short discussion about the advantages of a portable electric stove before we unveil the top picks.

Advantages of an Electric Stove
Portable electric stove is easier to clean and there is no open flame that may be dangerous. The gas is highly flammable and it is dangerous when inhaled. This is why it gas stove may not be the best solution for buyers who have children. Electric stoves are less expensive and easier to install for people who don't have a lot of time for an installation.
There are stove with additional features like fans and grillers. It's especially useful for people who don't have their own griller. The smooth surface is perfect for pots and pans. Great thing is mobility and size, you can bring portable stove with you on a camping or a vacation. Shortly speaking there are a lot of things that a portable small electric stove can help you with.
Let's start listing down the best portable electric stove.
1. Secura 8100MC 1800W
Portable Induction Cooktop Countertop Burner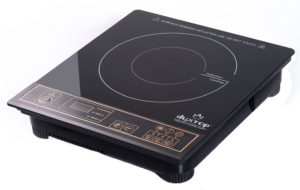 This is one of the best portable electric stove in the market. It is compact and lightweight which makes it easier to install and for handling. The digital control panel has its own built-in countdown timer. The unit will automatically turn off if didn't detect any cookware in 60 seconds. This portable electric stove really focused on the safety features.
Elegant look makes this stove perfect for way of a raclette cooking, as a centerpiece for tables and so on. The burner is also self-adjusting. It adjusts to the size of the cookware that you are using to save energy. It's compatible with induction ready cookware. It also has a voltage warning system and diagnostic error message system. You can find more similar products on the producer website.
head>
Pros
Cons
High-end technology
Easy to clean
Stylish
Requires certain cookware such as induction ready cookware
2. Waring DB60
Portable Double Burner
This portable electric stove has a double burner. It has non-slip rubber feet for extra grip on your countertop. It's perfect for everyday cooking because of its extra burner. For cleaning surface and burner rings you only need a slightly damp soft cloth. It has minimalistic old-style look, which will fit in most of the kitchen interiors.
The longevity of the unit is also undeniably long. With the proper use and proper cleaning tools, it will last longer and provide perfect cooking. A lot of people who bought the unit love it for simplicity. People said it heats up food fast and it's worth every penny. Here you can find link to producer website.
Pros
Cons

Double burner
Easy to clean
Heats food fast and easily

Cast irons takes longer to heat up
3. Elite Cuisine ESB-301BF Maxi-Matic 1000
Watt Single Buffet Burner Electric Hot Plate
This portable electric stove uses 1000 watts for faster cooking. It has a temperature control that can be adjusted to low, medium and high. The cool touch base has non-skid rubber feet which makes it stable when cooking. It has a easy to clean cast-iron plate. The black color of the stove adds an elegant touch to it.
It saves energy and it is perfect for travel use or for your small kitchen areas. The flat heating element distributes heat evenly onto the food that you are cooking. A lot of people loved how the portable stove worked for them. Because of its small physique, it's easier to clean and bring to other places. The fast heating of the small electric stove makes it easier for them to cook.
Pros
Cons

Food cooks faster than other electric stove
Easy to clean and for travel use

Longevity may vary on how you use it
4. Oster CKSTBUDS00 Inspire
Double Burner, Stainless Steel
This stainless steel portable electric stove has a double burner. It serves an extra hand if you are cooking a lot of meals. The powerful 1,500 watts that it uses makes it easier and faster to cook foods. It's a product that came from a trusted company. It has a power indicator light and two solid disc heating elements. The stainless steel design fits for any theme of your kitchen.
People are using the unit for quite some time now. Unlike other double burners, this unit distributes equal heat to both of the burners.
Pros
Cons

Distributes heat equally to both of the burners
Fast heating burners

Heating up may vary on the quantity of the food
5. Nesco SB-01
Stainless Steel Electric Burner
This unit is one of the best portable electric stove that you can buy. The small and stainless steel design of the stove is perfect for small areas. It uses 1,500 watts which makes it easier to boil, simmer and fry foods. The high quality cast iron plate is also easy to clean. It has a thermal fuse that shuts down the unit automatically when it is overheating.
The skid proof rubber feet of the unit make it stable when you are cooking. You can also use any flat bottom cookware like teakettles, glass, metal and ceramic works. Buyers who have been using this unit said heated up quickly and the feature such as the thermostat works fine.
Pros
Cons

Heats up food quickly
Perfect for small areas and travel use

Not suitable for large cookware
---
These electric stoves are the best performing unit in the market. The safety feature it provides will put your mind at ease whenever your kids are around when you are cooking. Portable stoves are your best friend especially if you like to travel and if you want to put a stove in a smaller area. It works wonderfully just like a standard gas stove but with additional features. It's cheaper but provides a world class performance.
Image sources:
https://www.amazon.com/
http://berabe.website
http://i.ebayimg.com
http://bpc.h-cdn.co
https://i5.walmartimages.com