Shopping for a foodie can be tricky, especially if the buyer knows little to nothing about food preparation. With the aisles of home-ware stores overflowing with kitchen gadgetry, it is understandable that gift-givers may be overwhelmed with choices.
How to Choose a Gift For a Home Chef and Food Lover
When you are selecting a gift for someone who loves to cook, there are a few questions that you need to keep in mind:
does the recipient already have something for this task?
is this item necessary?
will this gadget enhance the cooking experience or just take up space?
Based on the answers to these questions, a suitable gift can easily be determined. Most culinary enthusiasts enjoy the art of baking or cooking, so items which overly simplify the process, such as pre-packaged baking kits, are likely to be ignored. Many home cooks are also working with limited space. Items that only have one purpose, such as popcorn poppers or smoothie makers, might be seen as superfluous when a sturdy pot or professional blender will be more versatile and well-received.
With that in mind, the following kitchen gadgets will be a welcome addition to any kitchen. You can use these gadgets for a wide array of recipes and cooking styles.
Kitchen Gadgets
Silpat® Silicone Non-Stick Baking Sheet (Under $25)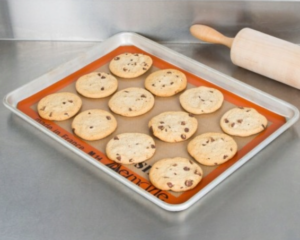 Surprise home bakers with the product they didn't even know they needed, but will instantly love. These fiberglass and silicone baking sheets are imported from France by Demarle Inc. and are available in various shapes and sizes. As a baking pan liner, they are perfect for cookies, crackers, or cheese crisps. Non-stick Silpat sheets also make wonderful counter-top liners for kneading dough or working with taffy or caramels. The rectangular 11 5/8" x 16 ½" sheet is the ideal size for many home kitchens and will replace the need for parchment paper. Kitchen cleanup has never been so easy.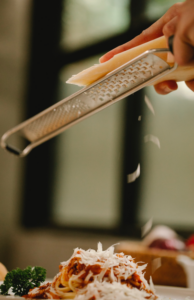 Microplane® Classic Series Zester/Grater (Under $25)
What originated as a wood-working tool has now found its way permanently into the kitchen. This lightweight hand-held grater is excellent for hard cheeses, citrus rinds, and ginger. The large, easy-grip handle prevents hand cramps and the high-quality razor-sharp edges produce thin, even results every time. The long 12" grating surface also allows for more food-surface contact and fits handily into a kitchen drawer or utensil holder.
Peugeot Electric Salt and Pepper Mill (Under $125)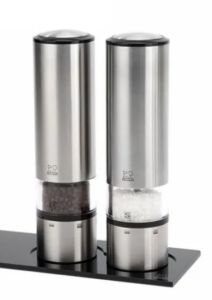 From the company that invented the original pepper grinding mechanism over one hundred years ago come these matching electric salt and pepper mills. Food lovers can season home-cooked foods with freshly ground peppercorns and coarse sea salts with just the touch of a button. Peugeot Elis mills are brushed stainless steel and acrylic and have built-in LEDs to light up the area you would like to season. The salt mill has a stainless steel grinding mechanism. The Peugeot pepper mill has a two-step process that cracks the peppercorns before grinding them down to the selected coarseness.
Home chefs and amateur gourmets will appreciate gifts that are practical and have multiple purposes. Tools that are easy to handle, and take up minimal space are the backbone of any kitchen. Will a little forethought, great kitchen gadgets for foodies you can purchase on any budget.