Products often look good but are not very practical to use. But form without function is useless. Unfortunately I come across this problem often, almost on a daily basis. Some products are so annoying to use that I quickly replace them. That's why I prefer to use equipment that does the job, rather than looks good.
This is one of the reasons why I like this knife block so much. It was designed by Martin Robitsch, a designer from Lienz, Austria (Martin has a bachelor's degree in industrial design, and a master's degree in conceptual design, and since 2008 he is the art director for SG Snowboards). This design gave him an honorable mention in the Designboom IMM Cuisinale exhibition.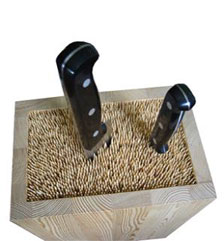 Let's be honest: this isn't the most beautiful knife block you've ever seen. It's decent looking but it doesn't have that wow effect. That's because the most important factor is usability; you can place a knife in this knife block without thinking about it. Other knife blocks have a predetermined place for every knife, but this block doesn't. You don't have to worry about getting each of them in a determined slot.
Thanks to the wooden skewers it will hold almost any cooking equipment safely. It's 30,4 centimeters (about a foot) high, so most knives should fit.
The Schaschlik knife block is hand-made with European pine and bamboo skewers. You can get it for $125.00 on GreenerGrassDesign.
Martin Robitsch's Schaschlik Knife Block
Feature image from Joby, who made his own universal knife block.