There are hundreds, perhaps even thousands of food blogs out there. All of them are packed with creative recipes and handy cooking tips. They are a great source of cooking inspiration and information, that's why we visit them frequently.
In this article, we visit some of these food blogs and take a look behind the scenes. We contacted them with a simple question: "what is your favorite kitchen equipment"? You'll find the results here…
Kate (Cookie and Kate)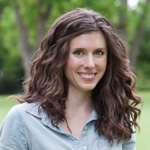 Kate is a 20-something self-taught photographer and cooks from Oklahoma. She recently moved to Kansas City, Missouri, in search of new adventures. She runs the food blog 'Cookie and Kate' where she shares recipes and cooking tips.
A cookie is actually the name of her dog, a gray-and-black speckled mutt (she adopted him a few years ago). Apparently, she is also an excellent crumb catcher.
For her favorite kitchen equipment, Kate chose her vegetable peeler (she has two). Here's what she had to say about them:
I love my vegetable peelers because they let me turn carrots, zucchini and asparagus into ribbons for beautiful salads. At under ten dollars, they are a lot cheaper and safer than a mandoline for cutting super thin slices of vegetables like radishes. I also use them to peel sweet potatoes so I can make baked sweet potato fries, my favorite!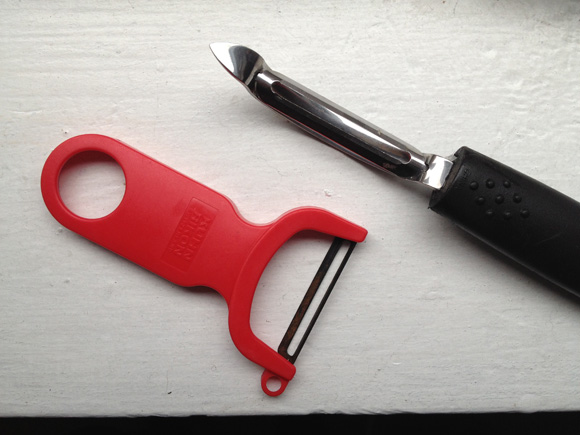 Jenny (dinner: a love story)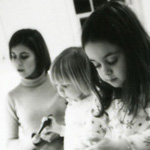 Dinner: a Love Story (DALS) is a website devoted to helping parents figure out how to get family dinner on the table. Jenny, the owner of the blog, provides you with plenty of recipes and strategies to bring this to a good end. Don't forget to take a look at the 'favorites' page on her blog. It's packed with useful recipes and tips.
Jenny is also the author of her own book, titled 'Dinner: a love story' and the co-author of 'Time for Diner'. Since 2009 she's working part-time editing and writing for books, magazines, and blogs.
She chose Le Creuset Spoonula as her favorite equipment:
I've gone on record saying that when faced with the option to purchase a two-in-one gadget, one should RUN THE OTHER WAY. They over-promise and under-deliver (I'm talking to you strainer-built-into-pasta-pot horror!) and wind up taking up real estate in my kitchen cabinets better suited to Dutch Ovens and Lodge Cast Irons and my beloved microplanes that earn their kitchen space every day, every meal. The one exception I have to this rule, however, is the Spoonula. I know, I laughed too when I heard the name, but I stopped as soon as I made myself a batch of scrambled eggs. Instead of using a wooden spoon to gently scramble and then another deeper spoon to scoop those eggs onto my plate (wooden spoons are no-good in the "scoop" dept) I only had to use one utensil. One ingenious utensil that makes me happy every time I break it out.

BTW: you can find this Spoonula on Amazon.
Rivka (Not Derby Pie)
Rivka is a consultant by day but when she's not working she likes to cook. Her blog, Not Derby Pie, has really brought her cooking skills to the next level. Not Derby Pie is the name of the dessert her mom used to make. It's named after Derby Pie, the Kern's Kitchen original that has been trademarked.
Rivka describes herself as a grammar fiend, a lover of homemade ice cream, and a proud builder of two pretty rockin' spice racks. It's no surprise then that she chose her spice racks as her favorite kitchen equipment.
Tough question! I'm attaching a photo here of my favorite area of the kitchen, which has my three favorite things: a homemade spice rack, a homemade pan rack, and all of my grain canisters in one place….atop my favorite piece in our kitchen, an industrial-style butcher block. Great for chopping, kneading, you name it.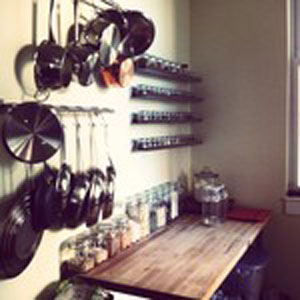 Melissa (Melissa Clark)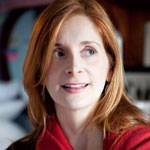 Melissa Clark is a popular food writer. She shares her recipes, tips, and kitchen adventures on her personal website. After brief forays working as a cook in a restaurant kitchen, and as a caterer out of her fifth-floor walk-up, Melissa decided upon a more sedentary path. She earned an M.F.A. in writing from Columbia University and began a freelance food writing career.
She has also written several cookbooks, such as 'In the kitchen with a good appetite' and 'Cook this now'. In total, she has written 32 cookbooks!
Melissa Clark was born and raised in Brooklyn, New York, where she now lives with her husband, Daniel Gercke, and their daughter Dahlia.
Her favorite kitchen equipment? A salad spinner!
Couldn't live without it. Whenever I return from picking up my weekly CSA batch of fresh vegetables, I always prep my greens by first rinsing and then drying them in my salad spinner. After a quick spin cycle, the greens get stored in plastic bags for quick use. My spinner is also handy for gently drying fresh herbs and of course, the more traditional lettuce, so that vinaigrettes cling to the leaves. And then there are kale chips, which need to be spun dry before then being patted even drier with a clear towel. How else are you going to dry those greens anyway?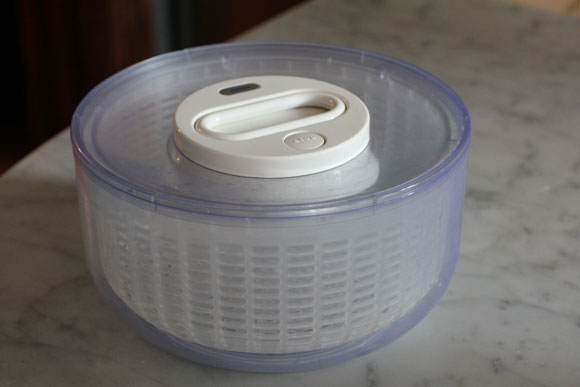 Stephanie (Girl versus dough)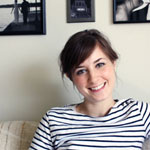 Stephanie Wise is a writer and self-taught baker. She lives in Chicago, together with her husband Elliott and her cat Percy. You read all about her cooking adventures on her personal blog; Girls versus Dough.
Stephanie is a 'flexitarian'; she only eats meat unless it's been ethically raised and under sustainable practices. Apparently, you're not supposed to eat meat every day (I didn't know that…).
Her favorite kitchen equipment is a stand mixer:
I can't live without my beloved KitchenAid stand mixer. This baby is my lifesaver when it comes to baking! Whether it's kneading a dough for bread, whipping up meringue or frosting or beating a batter for cake, I use my stand mixer for nearly everything I make in the kitchen. I honestly can't imagine what I'd do without it — I'd probably have some pretty muscular arms, but bigger headaches! 🙂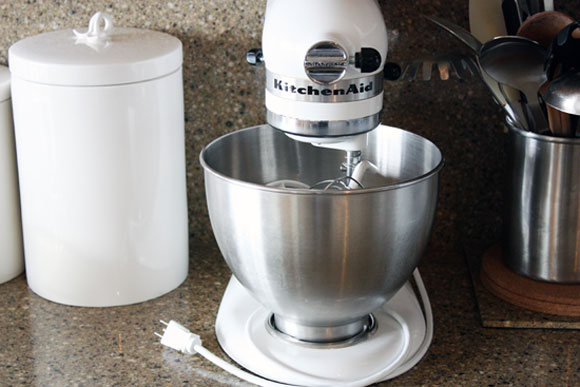 Jennifer (bake or break)
You might know Jennifer from her food-blog Bake or Break. Here she shares her baking adventures since 2006. Jennifer grew up in Mississippi. From an early age she learned that home-baked food is an important part of our lives and culture.
In the fall of 2010, she moved to New York City, together with Quinn and their cats. Quinn, her husband, even contributes to the site.
She had a hard time deciding which kitchen equipment was her favorite, but she managed to pick one:
When asked about what kitchen item I can't live without, I thought of a couple of things immediately. One was my hand mixer. The other was my stand mixer. Then, I realized that without one, I'd still have the other, so that's kind of a wash. The next thing that came to mind is my trusty cookie scoop. I have a few different sizes, but my 1-tablespoon cookie scoop has helped make countless cookies. Sure, it's an aesthetic thing to have perfectly sized cookies, but it is also a good baking habit. I truly adore my cookie scoop and would be most devastated to be without it.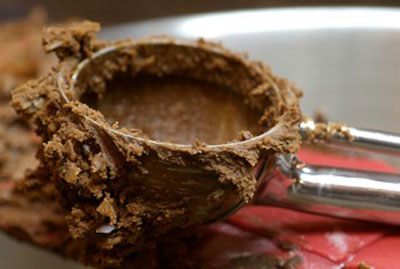 What about you?
What is your favorite kitchen equipment? Is there a kitchen utensil or appliance you absolutely can't live without? Please post a comment and share it with the rest of us.